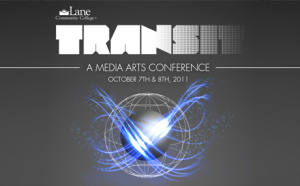 The Lane Community College Media Arts Department and Chambers Family Foundation present the Transit 2011 Media Arts Conference from October 7-8 at the Center for Meeting and Learning, Building 19 Room 102, Lane main campus, 4000 E. 30th Ave., Eugene.
The two-day conference features a variety of experts, speakers and panelists from throughout the Western United States to present on broad range of topics from emerging trends in media arts to working in major film studios to writing scripts to the politics of the music industry.
The conference kicks-off Friday morning with Mark Shapiro of LAIKA presenting the making of the Oscar-nominated feature animation "Coraline." Jeffrey Cooper from LA's Cut Entertainment Group will present "Formula for Success: The Independent Film Producer" as well as a talk on how films get produced. Paul Friedlander, director of the music industry program at California State University, Chico will present "It's the End of the World as We Know It: The Brave New World of Digital Music Distribution." Award-winning animator and author Jason Lethcoe (Walt Disney Studios, Dreamworks SKG, and Sony Pictures) will talk on working for the studios as well as giving a workshop on storytelling and storyboarding.
Husband and wife screenwriting team Sara and Gregory Bernstein ("Trial and Error," "Call Me Claus," "The Conformist") will talk about the writer's process as well as give a talk on how to pitch a story to studio execs.Saturday opens with Shapiro talking on "Inside the Studio: How Movies Get Made," and Friedlander sharing his insight of the international music industry as well as a talk on the politics of the music industry. Lethcoe will talk on the emerging independent scene in film and animation. In addition, a panel of Lane student alumni will provide honest insight into their own paths to success after studying at Lane.
Both days feature lighting workshops by award-winning videographer and lighting specialist Leonard Henderson, and expert panels on career paths and creative industry directions. There will be several open sessions to meet with presenters, chat and ask questions.
The conference is free and open to the public but online pre-registration is required.
For more information go the Transit 2011 Media Arts Conference go online at http://www.lanemediaartsconferences.com/ or look for Lane Media Arts on Facebook or contact Chad Winkler at [email protected] or (541) 463-3258.
Lane is an equal opportunity/affirmative action institution. Visit online at lanecc.edu or twitter.com/lanenews or facebook.com/lanecommunitycollege