http://vimeo.com/28690656
FOR IMMEDIATE RELEASE
MEDIA CONTACT
Tara L. Johnson-Medinger
503-267-1126
[email protected]
www.mysummerasagoth.com
Portland,OR-based filmmakers Brandon Roberts and Tara Johnson-Medinger look to the community and Kickstarter to raise $20,000 by October 31st, 2011 to fund the next phase of effort in this classic "girl meets boy" tale with a gothic twist.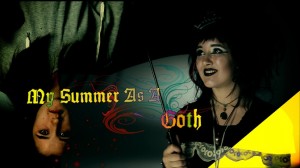 Portland, Oregon – September 14, 2011-– Portland, OR-based filmmakers Brandon Roberts and Tara Johnson-Medinger have spent the last two years crafting My Summer As A Goth, a unique telling of the classic "girl meets boy" story.  Their story comes with a twist, however: a gothic, "My Fair Lady"-esque twist, fueled by the rush of summer love.
Teenagers in the 80's, Roberts and Johnson-Medinger were inspired by the kinds of identifiable characters and social situations brought to life with by legendary filmmaker John Hughes, who defined a generation through his films.  As screenwriters, the duo challenged themselves to develop a script that would celebrate the extraordinariness of youth's first loves (and heartbreaks) and relate universal life lessons that will appeal across demographic and generational lines.
My Summer As A Goth is a film about the sometimes painful, often entertaining, adolescent search for identity and true love. Sixteen-year old Joey Javitts reluctantly spends her first summer away from home with her grandparents and ends up transformed by the beguiling Goth neighbor boy, Victor. During the course of her crazy summer, as Joey morphs from the girl-next-door to funereal mistress in black, she also runs into her high school crush, Robbie, and unexpectedly finds herself the object of both boys' affections.  My Summer As A Goth is an empowering, funny tale about how sometimes we have to try on a new identity in order to figure out who we really were all along.
Currently in the development phase, the filmmakers are seeking to raise $20,000 in this Kickstarter effort to move the project forward, launching the 45 day call for support on September 14th, 2011, and ending on all Goths' favorite eve, Halloween (October 31st).  The biggest component in moving forward is having a defined film product to shop to investors in order to obtain their intended budget. The development efforts include hiring an expert in writing business plans for independent films; hiring a casting agent and attaching talent; meeting with potential investors and casting directors in Los Angeles; as well as providing payment to their talented Portland-based crew.  The filmmakers' goal is to film in Oregon Summer 2012 for a theatrical release in Summer 2013.
There are Kickstarter contribution levels for all budgets starting at the $5 level, all the way up to $5,000, with several distinctive rewards including: "I Heart Goth" buttons and t-shirts; a Goth box makeover kit; an extra role in the film, or your name appearing on a tombstone in the film.  All contributions of $35 and above will also receive an invitation to a special Halloween night vampire film screening at the "haunted" Hollywood Theatre.
There is a talented team of filmmakers behind this effort. Co-Producer, Tara Johnson-Medinger is a force to be reckoned with in the burgeoning Portland film scene as Executive Director of The Portland Women's Film Festival and co-founder of Sour Apple Productions, a production company dedicated to original filmmaking and festival exhibition.  Her background includes over 20 years of experience in the film and television industry, including serving as manager of affiliate promotion at FOX Broadcasting in Los Angeles. Johnson-Medinger recently mounted another successful Kickstarter fundraising campaign, raising $10,000 for a documentary feature she is co-producing, "Rock-n-Roll Mamas."
Screenwriter and co-producer Brandon Roberts' first script, "In The Morning Glory," was a Sundance Screenplay Competition and Scriptapalooza Screenplay Competition Semi-Finalist (top 10) in 2001.  Roberts and Johnson-Medinger have assembled a creative team that includes: Tyson Wisbrock, a Portland, OR-based Director of Photography who has worked on television commercials for high-profile clients such as Nike, Nintendo, MTV2, Purina, and the Oregon Lottery. Wisbrock's unique vision also extends into the music video world (Fruit Bats, Minus the Bear) and reality television (Expeditions to the Edge, Little People Big World). Jillian Venters, the mastermind behind the long-running Gothic Charm School advice column and the author of Gothic Charm School: An Essential Guide For Goths And Those Who Love Them, serves as Goth lifestyle consultant.
Please visit www.mysummerasagoth.com to learn more about supporting this film project.