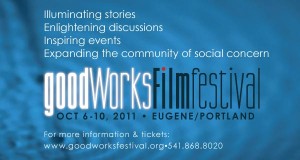 Welcome to Good Works Film Festival, a first-time event in Eugene (with a kick-off screening in Portland). We are presenting a series of acclaimed feature-length films with an array of social justice themes.
GWFF is not only about great films; what happens once the lights come on is equally important. The festival celebrates and encourages thoughtful discussion, community engagement and positive action, and will be providing a context, time and space for this to occur.
Numerous organizations and groups will participate, in the audience post-screening discussions with filmmakers, panels or roundtables, by providing resources and by networking and socializing at the festival Hub. All of these activities are intended to contribute to the civic dialogue and life of the community.
The Bijou Art Cinemas is the home for most of the festival screenings and the networking/social Hub, the Hult Center will host our centerpiece event, and the Eugene Public Library will be the venue for a day of screenings for students. For information about the films, ticketing and venues, please visit Good Works Film Festival
Special Programs
Screenings for Students
This program is free and intended for groups of students. Reservations are required.
There will be two special viewings of Not in Our School programs for middle and high school students on Monday, October 10th, at the Eugene Public Library. These viewings are intended for groups of students, at no charge, but reservations are required.
Monday, October 10 • 10:00 a.m.
Monday, October 10 • 1:00 p.m.
All Screenings at the Eugene Public Library
To make reservations, contact
Cynthia M. Olsen
Youth Services Manager
541-682-8315
[email protected]
Limited seating available.
Festival Hub
This program is free and open to the public.
At the Bijou Art Cinemas parking lot.
Friday – Sunday
October 7 – 9
Bijou Art Cinemas
Centerpiece Film & Discussion
This program is free and open to the public. Donations accepted.
Not in Our Town: Light in the Darkness is the third film in the Not In Our Town series, a project from The Working Group, whose mission is to highlight stories of communities taking positive action to fight intolerance. It will be followed by a roundtable community discussion in response to the film.
The Centerpiece is co-presented with The Migration Project, Wayne Morse Center for Law and Politics, University of Oregon
This program is presented in partnership with the City of Eugene/Hult Center
The film:
Not In Our Town: Light in The Darkness
The discussion
Light in Eugene?
A lively roundtable responding to the film and considering how well Eugene/Springfield are welcoming newcomers.
Saturday, October 8 • 3:00 p.m.
at Hult Center Studio
We look forward to seeing you at Good Works.