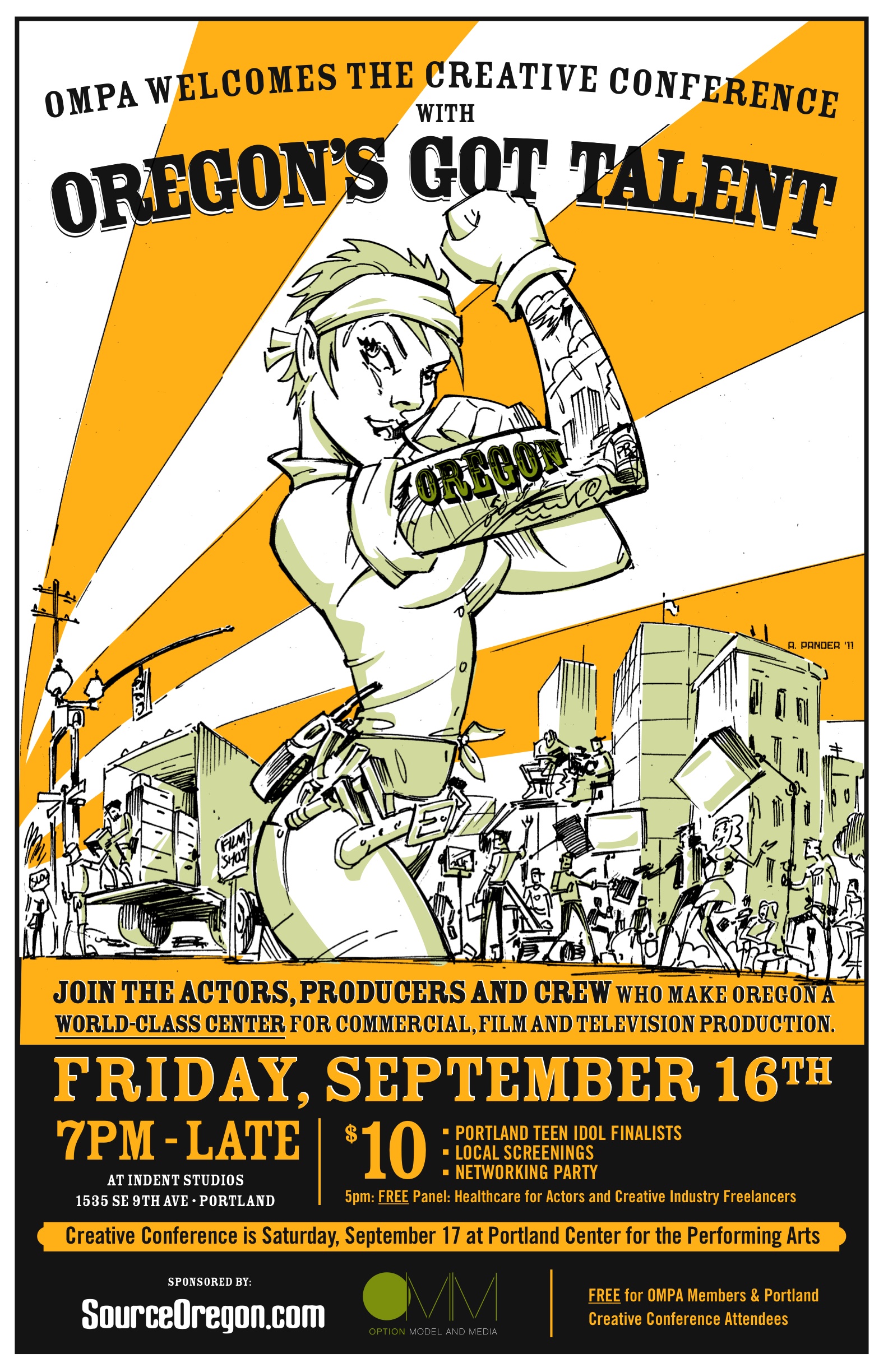 OMPA welcomes the Creative Conference with party and Health Care panel for creatives

OMPA welcomes the Creative Conference with the 2nd annual "Oregon's Got Talent" event at Indent Studios on Friday night, September 16th.  OMPA is a trade group for professionals in Oregon's commercial, film, television and new media production business, and has been a supporter of the Creative Conference since its inception, as the event promotes Oregon's broad creative industry.
"Oregon's Got Talent" celebrates acting talent as one of the resources available to producers shooting in Oregon – alongside the region's celebrated locations, professional crews, equipment and financial incentives. OMPA promotes these industry resources in the SourceOregon.com directory, and this event marks the first anniversary of including actors among those listings and within OMPA membership. The event will recognize actors who represent excellence in their craft and promotion of Oregon's industry. The event also features local screenings, finalists from the Portland Teen Idol singing competition, and a live piano-karaoke bar.
OMPA members and Creative Conference ticket holders attend for free, and all those who make Oregon a world-class center for commercial, film and television production (or who aspire to) are encouraged to join. Regular admission is $10. Creative Conference ticket holders should bring their printed ticket confirmation for admission.
At 5pm, in conjunction with the event and at the same location, OMPA hosts a panel to discuss health care options specific to actors and other creative freelancers. Harold Phillips, professional actor and publisher of "Oregon Film and TV Dollars," moderates this panel. Scheduled topics include conversations with representatives from insurance brokers from OMPA, the SAG and AFTRA actors unions, IATSE and AFLAC, as well as discussion of Patient/Physician Cooperatives. The health care panel is limited to the first 40 attendees, and is free and open to all interested.
RSVP for "Oregon's Got Talent" at www.ompa.orgRegister for "Creative Conference" at cre8con
Oregon's Got Talent
Friday, Sept 16
Indent Studios
1535 SE 9th Ave, Portland
5pm – Health Care Panel
7pm to 11pm – event
Portland Creative Conference
Saturday, September 17
Newmark Theater, Portland Center for the Performing Arts
8:15am – Check-in and networking
9:00am to 5:00pm – Main program