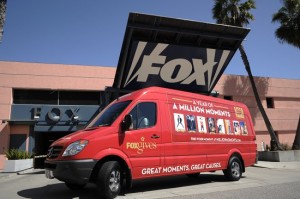 Earlier this year, Twentieth Century Fox launched A Year of a Million Moments, celebrating movies made memorable, quotable and unforgettable by the people who watch and embrace them. In addition to the online contest, polls and quizzes, Twentieth Century Fox Home Entertainment has launched a mobile van tour zigzagging across the country to 18-cities over 14-weeks with the ultimate goal of donating 1 million DVDs.
The mobile tour gives film fanatics and consumers nationwide the opportunity to recreate their favorite scenes from beloved Fox movies, filmed against a green screen.  The tour van will double as a dressing room trailer, complete with hair, makeup and wardrobe, giving participants the feel of really being on a movie set.  Once filmed, the clips will be uploaded to the Million Moments website for downloading and will be one-click sharable across all social networks.  Designed to celebrate the unique connection between a moment in film, its audience and the conversations it inspires, the Year of a Million Moments campaign allows movie lovers to experience and share the thrills, laughs and drama of real movie moments.
The tour will be making a stop in Portland this Wednesday, July 13th, when Twentieth Century Fox will be donating 10,000 DVDs to the Boys & Girls Club of Portland. Show your support for movies and the Boys & Girls Club by stopping by the William C. Fry Service Center at 7119 SE Milwaukie Ave in Portland from 3:30-5:30 July 13.