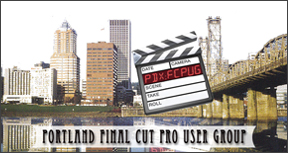 Two presentations are in store for the July 13th meeting of the Portland Final Cut Pro User Group (PDXFCPUG). First up is a visit with Red Giant's recently released Magic Bullet Suite 11. Demonstrations of "Looks 2" and "Cosmo" will be given.
There has been a lot of hubbub from editors around the world since the recent release of Final Cut Pro X. Warren Shultz of RVI Media and Dean McCrea of TRL Media will present a first look at FCP X. They will explore some of the controversy surrounding its release, attempt to sift through the recent chatter on the web and sort fact from fiction, and they'll also provide a demo showcasing some of the new features of Final Cut Pro X. Join us and take a look.
As always, there will be a raffle at the end of the 2 hour meeting. This month the raffle items have been generously donated by Red Giant Software: 2 copies of Cosmo and 1 copy of Magic Bullet Looks 2. Be sure and secure your raffle ticket when you arrive!
Date: July 13th, Wednesday
Seating: 6:15 – 6:30p
Time: 6:30 – 8:30p
Location: NW Documentary (115 SW Ash, Suite 620); Portland, OR
Cost: $5 at the door; Free to Students with current ID.
1 FREE raffle ticket upon entry