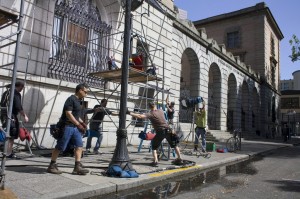 Over the course of Oregon's 103 year cinematic history, 300+ productions have made use of our diverse locations and home-grown talent pool. However, this summer will be the first time that we'll be playing host to three television series shooting simultaneously – Leverage, Portlandia and Grimm – and all based in the Portland Metro area.  It's an incredibly exciting thing both for the city and Oregon's film and television industry on the whole, but what does that mean for those of us not on set besides seeing an abundance of large trailers filling  the streets near our office buildings?
For one, it means a slew of jobs not only for Oregon's ever-growing crew and talent pool, but also for local businesses. And it's not just the businesses you'd expect to find a role in the industry, such as construction resources and dry cleaners, but also the less immediately apparent, such as flower shops and office supply centers. With Grimm now committed to shoot this year in Oregon, the direct and indirect impact on Oregon's economy from productions (since 2007) is projected to be over $590,000,000.
Beyond the economic impact, the film industry is a clean industry and many of the productions that come to Oregon take things a step further by working to be as sustainable as possible. Under the "Green is Universal" initiative from NBC-Universal, Grimm in particular is committed to being a green production. Many of their steps (such as using compostable cutlery and donating left over food) may appear small when looked at from the stance of Oregonians who have been trained to sort their recycling from Day 1, but when these practices are adopted on set and in production offices, the impact (or lack thereof) can be huge.
But you want to know what I think the best part of it all is? The sheer energy that comes from having all these productions around. Oregon is overflowing with people devoted to fresh, innovative ideas. I for one can't wait to see these creative sensibilities infused into the productions themselves and to see how the shoots feed back into our communities.
Leverage, Portlandia and Grimm are in addition to the host of independent features, commercials, music videos and animated productions that are in the works all across the state as well. It goes without saying that summer 2011 is going to be the busiest (and most exciting!) time in the history of the Oregon film industry. I don't know about you, but I can't wait to see the finished products.
Written by Lindsay Harrop.
As an intern with the Oregon Governor's Office of Film & Television, I get to observe Oregon's film industry from a unique angle. Over the course of the summer I'll be writing periodic pieces about the exciting cinematic endeavors occurring across the state and how the film industry impacts Oregon (and vice versa).