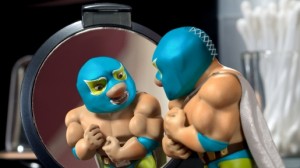 If you've ever watched IFC then you've seen their signature quirky-cool ad campaign. But did you know that it was designed and created by Oregon-based Feel Good Anyway? Or that the 40+ special effects in the NBC movie "A Walk in My Shoes" were done by Portland's visual effects company Hive-FX? Or if you've been to Canada lately and seen Koodo Mobile's adorable spokesman El Tabador, that he was produced by Bent Image Labs based in – you guessed it – Oregon?
Thanks in large part to TV shows such as "Leverage" and "Portlandia" shooting in Portland (as well as the recently announced "Grimm,") Oregon's profile in the film industry has been rising exponentially over the last few years. But Oregon is also home to an amazing animation and VFX (that is, visual effects) industry. Three of these companies are the subjects of featured Case Studies on the recently launched Oregon Animation blog. Here's a snapshot of the some of the projects they've been working on. Be sure to check out the website for the final products!
Last year, NBC shot the feel-good family drama "A Walk in My Shoes" entirely in and around Portland. Post-production work stayed local too as Hive-FX was hired to do all the visual effects for the film. Hive-FX brought top-of-the-line efficiency and professionalism to the project and a Hollywood-level of quality. The film's director John Kent Harrison praised the company's work and is eager to collaborate with them again. The crew at Hive-FX have also leant their talents to ad campaigns for major companies like Quaker and Intel.
If "IFC" sounds familiar, it's probably because they're the people responsible for the hit-show "Portlandia." But they've also brought their business to Oregon in the form of an uber-hip and amusing rebranding campaign handled by local company Feel Good Anyway. Feel Good Anyway won two different awards at the Brand New Awards for their work on more than fifty promos and IDs for IFC, in addition to a new logo and other brand amenities. In fact, IFC was so happy with Feel Good Anyway's work that they'll be keeping the company on for inspiration and additional creative partnering.
With the theme of Oregon companies winning awards for creative branding, Bent Image Labs helped earn Candian Koodo Mobile the 2010 Brand of the Year award from Strategy Magazine. Bent designed the 4-inch tall Lucha Libre Mexican wrestler El Tabador to be the company's spokesman and he's been a runaway success. Bent used their experience with stop motion sets and VFX miniatures to save time and money in scouting locations in Mexico for authenticity. Collaborating with Canadian agency Taxi 2, Bent designed El Tabador from initial sketch to final computer render.
Oregon is home to an enormous talent pool of people working in all facets of the film industry. Support local FX companies by checking out www.oregonanimation.com.
Written by Lindsay Harrop.
I am a summer intern with the Oregon Governor's Office of Film & Television. I grew up in the Willamette Valley but now attend Ithaca College in New York, where I study screenwriting. There are so many fresh, exciting things going on in Oregon's film industry right now that it's awesome place to spend the summer. I'm looking forward to writing about more of these cinematic endeavors over the course of the summer!