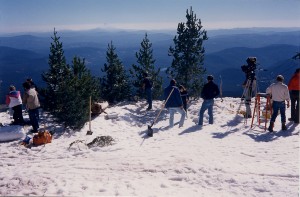 Most of the attention of late has focused on feature films and the renewal of the production incentives. The press loves to write about the "Leverages," the "Grimms," the "Gones" and the "Portlandias' because they bring recognizable star talent to Portland.  And because they have a mystique about them; they are, for all intents and purposes, "the movies," "Hollywood." But we don't want to loose sight of that portion of the production world that has provided a reasonably steady stream of work for local crew and local vendors; the COMMERCIAL.
Oregon has always had a strong commercial draw. Logistically, what more could you ask for? At virtually any point in the state, north to south, you can start at the ocean beaches, drive east through forests and mountains into valleys with agriculture, through another mountain range with bigger peaks, and then break into the high desert. All of this in span of 150+ miles. Base in Portland, and you have the state's largest urban community with the ocean 80 miles west, Mount Hood 50 miles east, and the desert another 30 or 40 miles east. But then, if you live here, you know all of this and have undoubtedly preached the same story to any production company that would listen.
Recently, Oregon has hosted commercials for Target, Cooper Tires, Wal-Mart, Smith-Klein, Blount Chain Saws, Liberty Mutual (said to be a "ginormous" shoot), the Oregon Lottery, and many others. Many of these have been produced by Oregon production companies and finished at Oregon post production houses; always an added bonus. The next time a commercial comes on, don't just run for the 'fridge.  Pause a moment and give it 30 seconds of attention.  It may have been shot in Oregon.
-Bob Schmaling
Senior Project Manager