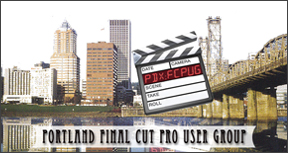 3D Movies,  3D-TV, 3D video games…
Unless you've been hiding under a rock for the last year or two, you've probably seen the re-birth of 3D in the digital world, and you may have some questions…
How does it work?
Do you always need to wear glasses?
Why does it give me a headache?
How different is production?
Post production?
What editing tools are available? FCP? Avid?
How can I distribute 3d content? BluRay? Web? Mobile?
Has it already failed in the marketplace?
What is the future of 3d?

Come to the next Portland Final Cut Pro User Group (PDXFCPUG), May 12th, to hear some answers (and some opinions!) from David Jahns, Online Editor, Colorist, and Technology Manager at Joint Editorial in Portland, Oregon. 3D glasses will be provided!
Time: 6:15p (seating); 6:30p – 8:30p
Location: NW Documentary (115 SW Ash, Suite 620)
Plenty of street parking and the MAX stop is only 2 blocks away at 1st/Oak.
Cost: $5 at the door; Free to Students with current ID.
1 FREE raffle ticket upon entry
Please join PDXFCPUG on Facebook.
The Portland Final Cut Pro User Group is member supported non-profit organization dedicated to the education and development of its members. We hold monthly meetings at NW Documentary for the purpose to learn, share information, and network with others from the Portland film community. The skill level of our membership ranges from expert professionals to novice hobbyists. All are welcome.