Recently Sean Brown a Corvallis based Director made a demo scene from a novel called "Reality Crash" by Cyd Ropp and Lou Grantt, in hopes of getting the film made into a feature.
While gathering all the needed expertise to work on the project Sean found that Corvallis had more then enough talent to make the production a great one.
Sean's AC, Gaffer, Set Designer/Builder, Costumer, and a few other positions all came from Corvallis. Ryan E Walters as Cinematographer and Christina Kortum for make-up came from the Portland area. The Gaffer on the production, Ian S Jennings lives in Corvallis, and was a great value to the production. Sean learned that not only does Corvallis have great talent and crew but also great locations to film.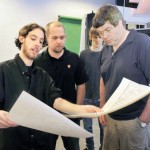 Director Sean brown,talking over storyboards to Ryan Walters and Ian Jennings
Photo from the Corvallis GT Article
More behind the scenes photos can be found here
Reality Crash Demo scene was shot on the RED ONE and Canon 5d Mark ii. The scene is based on the novel "Reality Crash"
http://vimeo.com/21424970