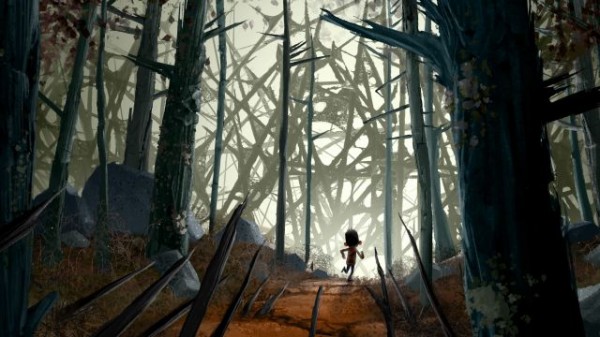 CORALINE PARTNERS FOCUS FEATURES AND LAIKA RETEAM FOR TWO-PICTURE DISTRIBUTION DEAL; 3D STOP-MOTION ANIMATED COMEDY THRILLER PARANORMAN OPENS AUGUST 17, 2012
NEW YORK and PORTLAND, OR, May 4, 2011 – Focus Features and LAIKA, the two companies behind the Academy Award-nominated animated feature Coraline are reteaming for LAIKA's next two projects. The first of the duo, ParaNorman, will be released nationwide on August 17th, 2012. The second, yet-to-be-named, picture will be released nationwide in 2014. Following the groundbreaking Coraline, ParaNorman is only the second stop-motion animated feature to be made in 3D. Focus CEO James Schamus and LAIKA President and CEO Travis Knight made the announcement today.
As on Coraline, Focus will hold worldwide distribution rights to the movies, and Universal Pictures International will release them overseas. Coraline is Focus' secondhighest-grossing movie of all time, with over $75 million domestically. The picture earned Golden Globe, BAFTA, Critics' Choice, and Academy Award nominations for Best Animated Feature Film; and was named one of the year's 10 Best Films by the American Film Institute (AFI) with an AFI Award.
Currently in production, ParaNorman is being directed by Sam Fell and Chris Butler, from Mr. Butler's original screenplay. Mr. Fell was director of The Tale of Despereaux and Flushed Away. Mr. Butler was storyboard supervisor on Coraline and storyboard artist on Tim Burton's Corpse Bride. The voice cast includes Academy Award nominee Casey Affleck (The Assassination of Jesse James by the Coward Robert Ford), Tempestt Bledsoe (The Cosby Show), Jeff Garlin (Toy Story 3), John Goodman (Monsters, Inc.), Bernard Hill (Titanic), Academy Award nominee Anna Kendrick (Up in the Air), Leslie Mann (Rio), Christopher Mintz-Plasse (How to Train Your Dragon), Kodi Smit-McPhee (Let Me In), and Tony and Emmy Award winner Elaine Stritch (30 Rock).
In the comedy thriller, a small town comes under siege by zombies. Who can it call? Only misunderstood local boy Norman (voiced by Mr. McPhee), who is able to speak with the dead. In addition to the zombies, he'll have to take on ghosts, witches and, worst of all, moronic grown-ups, to save his town from a centuries-old curse. But this young ghoul whisperer may find his paranormal activities pushed to their otherworldly limits.
Arianne Sutner, animation producer on The Life Aquatic with Steve Zissou, and Travis Knight are producing ParaNorman. Academy Award winner Brian Van't Hul (King Kong, Coraline) is the movie's visual effects supervisor; Emmy Award winner Nelson Lowry (Fantastic Mr. Fox, Tim Burton's Corpse Bride) is its production designer; and Tristan Oliver (Fantastic Mr. Fox, the Academy Award-winning Wallace & Gromit in The Curse of the Were-Rabbit) is the director of photography on ParaNorman.
Mr. Schamus commented,
Everyone at Focus is proud to be partnered with LAIKA again on their newest wondrous creations. Travis Knight is both an extraordinary businessman and a visionary artist who we know will shepherd these  projects with imagination and originality. We're thrilled to have ParaNorman as our next movie together, one which marries the stunning visuals of 3D stop-motion with a compelling, heartfelt, and funny story anchored by a terrifically relatable underdog hero."
Mr. Knight added,
ParaNorman is a story of intense beauty and emotional truth. It's audacious, has genuine heart, and is funny as hell. We're incredibly excited to share this wonderful story with the world. And we're privileged to work again with Focus Features, with whom we share a commitment to bold, distinctive, and enduring films. LAIKA and Focus are truly kindred spirits. James Schamus and his extraordinary team have built their reputation on original thinking, old-fashioned muscle, and an unerring fidelity to creatively rich and  thematically challenging cinema. We're thrilled to extend the relationship that began with Coraline and look forward to being a part of the Focus/Universal family for years to come."
About LAIKA
Fueled by the vision of its owner, NIKE Co-Founder and Chairman Phil Knight and its President and CEO Travis Knight, LAIKA Inc. is an animation company specializing in feature films and commercials. LAIKA, located in Portland, Oregon, has a 30-year history of presenting the artistry of award-winning filmmakers, designers, and animators in the field of animated entertainment and commercials. LAIKA's first feature, Coraline, was released by Focus Features in February 2009 and was the first stop-motion animated feature to be conceived and photographed in stereoscopic 3D. The film was nominated for an Academy Award and a BAFTA Award for Outstanding Animated Feature, and won the prestigious Cristal Award at the Annecy International Animation Festival. LAIKA/house is a world-renowned  commercial animation studio acclaimed for its skill in storytelling and character performance in a variety of animation media, including 2D, CG, and stop-motion. Its work has garnered the attention of top advertising agencies and has  attracted clients such as Starbucks, Apple, Coca-Cola, ESPN, M&Ms, and Planters.
For more information about LAIKA, please visit www.laika.com
About Focus Features
Focus Features and Focus Features International (www.focusfeatures.com) comprise a singular global company. This worldwide studio makes original and daring films that challenge the mainstream to embrace and enjoy voices and visions from around the world that deliver global commercial success. The company operates as Focus Features in North America, and as Focus Features International (FFI) in the rest of the world.
In addition to the LAIKA movies, current and upcoming Focus releases include Moonrise Kingdom, the new feature from two-time Academy Award nominee Wes Anderson, starring Bruce Willis, Edward Norton, Bill Murray, Frances McDormand, Tilda Swinton, and Jason Schwartzman; Cary Joji Fukunaga's acclaimed romantic drama Jane Eyre, starring Mia Wasikowska and Michael Fassbender; Joe Wright's sleeper hit thriller Hanna, starring Saoirse Ronan, Eric Bana, and Cate Blanchett; Mike Mills' comedy/drama Beginners, starring Ewan McGregor and Academy Award  nominee Christopher Plummer; John Madden's espionage thriller The Debt, starring Helen Mirren, Sam Worthington,  and Jessica Chastain; writer/director Dee Rees' contemporary drama Pariah, which world-premiered at the 2011  Sundance Film Festival; the untitled father/son drama from writer/director Paul Weitz starring two-time Academy Award winner Robert De Niro and Paul Dano; and Lone Scherfig's romance One Day, based on the bestselling novel, starring Anne Hathaway and Jim Sturgess. Focus Features and Universal Pictures International are part of NBCUniversal, one of the world's leading media and entertainment companies in the development, production, and marketing of entertainment, news, and information to a global audience. NBCUniversal owns and operates a valuable  portfolio of news and entertainment television networks, a premier motion picture company, significant television  production operations, a leading television stations group, and world-renowned theme parks. Comcast Corporation owns a controlling 51% interest in NBCUniversal, with GE holding a 49% stake.