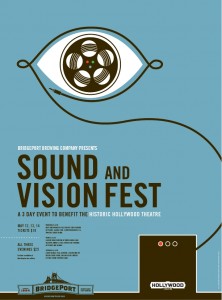 BridgePort Brewing Company, Oregon's oldest craft brewery, is proud to announce this year's "Sound and Vision Fest" taking place at the Hollywood Theatre to benefit restoration projects at the 85 year-old Portland landmark.
The festival was created to showcase new or existing collaborations between musicians and filmmakers, exploring how the moving image informs musical performance and vice versa. Each night of the festival will be curated by a different local artist and will feature a mixture of film screenings and live music from favorite local bands. Evening curators include:
• May 12: Award winning filmmaker, Matt McCormick ("Some Days are Better than Others", "TheSubconscious Art of Graffiti Removal") will curate the evening. Matt is also known in music circles for his work directing videos for The Shins, Sleater- Kinney, and YACHT and will collaborate with electronic musician Eluvium on a new film project to be screened on Thursday.  Goodnight Billygoat will close the evening.
• May 13: Carrie Brownstein (Portlandia, Wild Flag, Sleater Kinney) will curate Friday night's festivities. Carrie's most recent project includes WILD FLAG, formed with former Sleater-Kinney drummer Janet Weiss, former Helium guitarist and singer Mary Timony, and Rebecca Cole of The Minders and of course Portland's new favorite mockumentary show, Portlandia. Film and music still to be announced for the evening.
• May 14: Lance Bangs will be screening a work in progress of his own to be announced, as well as "Animated Conversation with Noam Chomsky" (work in progress) directed by Michel Gondry (30 minutes), and "Mourir Auprès de Toi" (To Die by Your Side) directed by Spike Jonze & Simon Cahn (6 minutes).  A special surprise guest band will close out the night.
Tickets are now on sale and please follow the Hollywood Theatre on Facebook for all event updates.