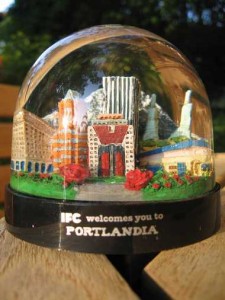 ……in Oregon Live that "Portlandia" continues to raise awareness for the city?  According to Rob Owen, during the Television Critics Association Winter Press Tour last week, life in Portland was on topic for those journalist attending the "Portlandia" Q & A with Carrie Brownstein and Fred Armisen.  Read about it.
Did you read…………that there is now a second "Portlandia" screening at the Hollywood Theater on January 14th?
Did you read………Kristi Turnquist's piece in Oregon Live that Melissa Locker's posting a couple of days ago on the IFC Blog highlighted an interesting  "Portland in the 90's playlist"?
Kristi also highlighted the latest clip from IFC's viral campaign……………….so now you can stop reading and watch…..