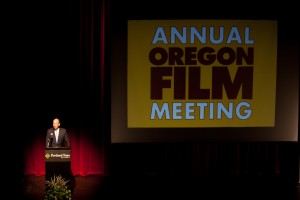 Last Friday our office presented some important information regarding the Oregon Production Investment Fund and the Greenlight Oregon Labor Rebate and those programs' performance over the last few years.  I feel it's best to share that information on our blog at this point so you all can have a place to find the presented information.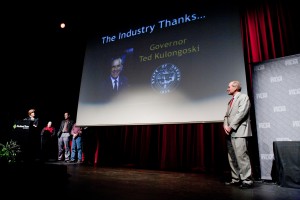 2007-2011
Since 2007 up to present day (January 1 actually), the total amount of direct spend in Oregon on "OPIF and Greenlight qualified" Film and Television Projects amounts to $178,525,405.  The direct and indirect impact on Oregon's economy was $349,909,794.
Projected through December 31, 2011 we predict the total amount of direct spend to be $275,000,000.  Direct and indirect impact on the state's economy is projected to be $541,861,324.
In addition, the Greenlight Labor rebate has brought in over $30,000,000 in commercial production to the state of Oregon.
(*All indirect economic impact formulas come from the EcoNorthwest study released in 2008)
"Leverage"
By the end of next season (their 4th total and 3rd in Oregon), the total amount of direct spend in Oregon will be over $75,000,000.
Season 3
471 Local Hires were put on payroll during the season.  Collectively those employees worked 204,938 hours.
In addition, over $350,000 was spent hiring locals to be extras or background performers.
Over $1,900,000 was spent on Pension, Health, and Welfare fund contributions
417 Local Vendors were paid by the show representing 22 of the 30 senate districts in Oregon
I believe these figures demonstrate the wide impact of OPIF and Greenlight programs which is why we feel the programs are worth continuing.  It is true that the incentive programs are designed to recruit film and television productions to our state but the impact goes far beyond this particular industry.
Currently there are 41 states with film incentive programs and Oregon ranks in the lower third of those states in terms of the amount of money we offer as an incentive.  Despite the fact that Oregon has chosen to not go as far as some aggressive states, we are able to pool our other advantages to land our share of projects.  We feel that if we can just be in the conversation when a project is looking for a location, we can land the ones who see the many values of our state.  OPIF and Greenlight allow us to be in the conversation.
While there are changes brewing in the motion picture industry, one thing is clear, it's not going away.  Quite the contrary:  it is still a $13+ billion net exporting industry for the U.S., and there are specific reasons why this industry can not pack up and move to China or India (language and geography to name a few).  The motion picture industry also is a clean industry.  You do not have to worry about a film polluting a community's water supply nor a television series asking the state to build a road.
Oregon's creative capital is at an all time high, and OPIF and Greenlight deserve some of the credit.  More and more people from around the country and around the world are taking notice which in turn means more investment and more work.  We've only scratched the surface of what's possible and we look forward to a bright future for Oregon's creative industry.
-Vince