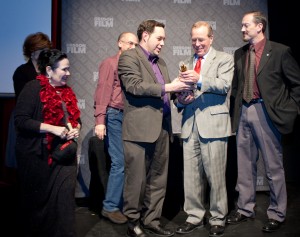 Attending our Annual Meeting was Governor Kulongoski, members of the Governor's Office of Film & Television Board, as well nominees for the annual awards and a large audience of industry professionals at the newly rennovated Lincoln Performance Hall at PSU on Friday evening.   PSU's technical team made it possible to catch up on industry happenings in Ashland, Bend and Eugene via  live broadcast by teleconference bridge.
Governor Kulongoski presented awards to:
Innovation In Media Arts Award– NaturalPoint – OptiTrack, Insight VCS,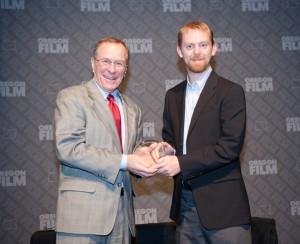 Film Advocate Awards went to Rob Burchfield (Traffiic Operations, Portland Dept. of Transportation) and Ian Cannon (Dept. of Community Services, Multnomah County)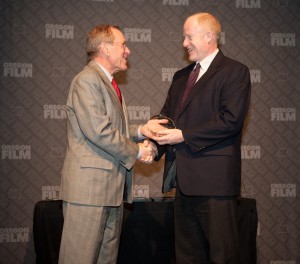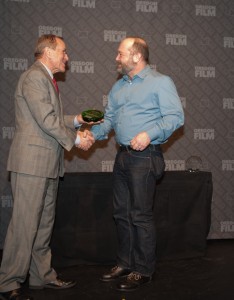 Green Leadership Award – Gearhead Grip + Electric, Joel Stirnkorb accepted the first Green Leadership Award for all of his green initiatives at Gearhead.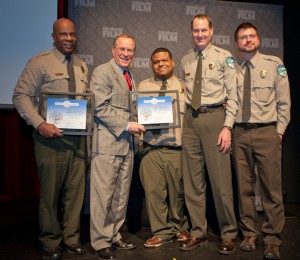 Industry Leader Certificate Award – Oregon State Parks, specifically Silver Falls State Park (Steve Janiszewski and Kevin Strandberg accepting) and Columbia River Gorge (Kevin Price and Lavern Watson accepting)
At the end of the meeting representatives from Oregon's Film and Video Industry gave a heartfelt and thankful presentation to Governor Kulongoski.  In his eight years as Governor, the film and video industry has seen dramatic growth and as a result thousands of Oregonians have been employed and hundreds of small businesses have been positively impacted by the projects produced throughout the state.