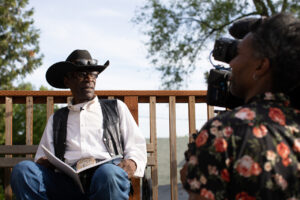 Oregon Humanities is now accepting proposals for our Community Storytelling Fellowship. We're looking for people who belong to communities that are underrepresented in Oregon media to share stories from those communities in our magazine and other publications in 2024.
This fellowship supports storytellers working in any nonfiction medium—written journalism, audio, video, comics, photography, and more. Selected fellows will each receive $5,000 to develop and share stories from their communities to be published by Oregon Humanities and partner publications throughout the year.
In 2024, a total of six fellowships will be awarded, with three reserved for storytellers living in rural communities. Each fellow will work with an experienced mentor working in their medium and an editor from the Oregon Humanities staff. Additional funds to support travel and other expenses are available.
To apply, please view the information page on our website and submit a proposal by October 31.