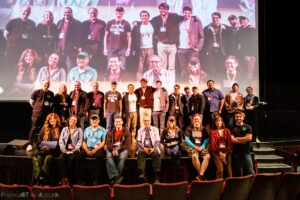 For the 11th rendition of the Klamath Independent Film Festival, Oregon's lone film fest that exclusively showcases Made-in-Oregon shorts and feature-length films, over 50 selected films will be presented in-person and online Sept. 22-24.
Organized by Klamath Film, a 501c3 nonprofit that serves as the film liaison office for Klamath County, the festival draws filmmakers and film fans from across the state to Klamath Falls for a three-day celebration of films made across Oregon over the past year. This year's festival has accepted over 50 films – the most in the festival's history – necessitating additional online exclusives alongside a full slate of film screenings to be held at the Ross Ragland Theater. Attendees can attend in-person or watch the entire festival from the comfort of home via Eventive, which provides all films on-demand along with exclusive Q&A's with filmmakers and livestreams of all on-stage activities.
"This year we were thrilled to have an abundance of fantastic films shot across Oregon, to the point where we had to expand the number of films offered at the festival," said Kurt Liedtke, Klamath Film board chair. "Both quantity and quality of films this year were overwhelming; if there is such a thing as a good outcome of the pandemic this might be one in that Oregon filmmakers had several years stuck at home to really refine scripts and develop their dream projects, and now we're seeing the results. This is the best overall lineup of films we have ever showcased."
The festival has garnered a reputation as the premier Oregon-centric film fest, welcoming visitors to the Klamath Basin from across the Pacific Northwest for a multi-day celebration of Oregon's diverse landscapes and artistic endeavors. It features animation, documentaries, and narrative films spanning many genres and topics.
Festivities commence on Friday, Sept. 22 with an opening night gala and showcase of four films similarly themed around water – a topic all too timely in the Klamath Basin following years of drought and work underway to remove four dams in the region. Saturday, Sept. 23 will showcase selected feature-length films, followed by a Q&A with each filmmaker. Sunday, Sept. 24 begins with a showcase of student films, including those produced by Klamath area students in an annual summer film camp coordinated by Klamath Film, and continues with shorts (films under 40-minutes in length) culminating in the KIFF2023 Awards Ceremony that evening.
A total of $5,100 in cash prizes will also be distributed across seven award categories. This year the festival is also adding an annual career achievement in film award celebrating individuals with Oregon roots who have had a profound impact on the film industry. Awards are divided geographically between northern and southern Oregon for Best K-College film, Best Short Film (under 40 minutes), and Best Feature Film. A seventh prize is given to the best film created by students that participated in the summer film camp.
Like in recent years, the winning filmmakers receive not only a cash prize but also a one-of-a-kind art piece specific to their film created out of native Oregon woods by the Klamath-based crafts collective known as the Southern Cascade Woodcrafters Guild.
"We have partnered with the Woodcrafters since 2020, and their incredible artistic work has become one of the staples of the film festival celebrated statewide," added Liedtke. "Every trophy is made custom matching a character or theme from the winning film, so filmmakers walk away with something truly unique that celebrates their film."
The festival's lineup includes films from across the state created as far away as Hood River alongside numerous Portland productions, films from Eugene and Bend, Cottage Grove, several films from the Medford and Ashland area, and multiple films made in Klamath and Lake counties.
Due in part to its Oregon-centric structure and casual, welcoming atmosphere, the Klamath Independent Film Festival has become a celebrated stop for Oregon filmmakers for not only showcasing their films but also networking with peers. Several films have even been made or are scheduled to go into production soon in Klamath County as a result of attending filmmakers being introduced to the region and fellow filmmakers to collaborate on a project.
Tickets for the Klamath Independent Film Festival vary from single-day passes for $25, weekend passes for $40, a Friday pass for $15, or a full festival pass for $50. There are also livestream and online access festival passes for $40, which allow access to all of the festival's films for two weeks. Klamath Film members receive a 50% ticket discount.
For more information and to purchase tickets in advance visit www.klamathfilm.org/festival.