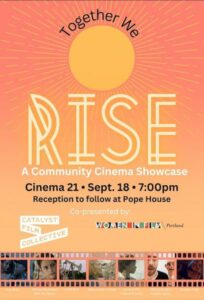 Rise: A Community Cinema Showcase is co-presented by Catalyst Film Collective and Women in Film – Portland. The showcase will feature seven short films made by members from both organizations, tied by themes of rising above life's challenges to uncover our truest selves.
Catalyst Film Collective is a Portland-based nonprofit elevating new voices in film by creating opportunities for members of marginalized communities to tell their own stories—both in front of and behind the camera—at all levels of production.
Women in Film – Portland is a non-profit serving the Portland community whose mission is to elevate women and non-binary folks through education, outreach, and professional development. (www.wifpdx.org)
Screening Program:
1. Hey Man- Kai Tillman (Writer, Director), 23:51, 2022. While navigating between steamy Grindr hookups and their rideshare passengers, Eli reluctantly alters their queer transmasculine identity to pass in a straight cisgender world for their physical and emotional safety.
2. Above the Desert With No Name- Heather Older (Writer, Producer), 16:30, 2023. A young girl finds empowerment after spying on an incandescent neighbor.
3. To Be Rich- Erika Bolstad (Director, Producer), 10-minutes, 2023. When a journalist's family inherits mineral rights in the North Dakota oil fields, she unearths the unsettling history of the bequest and begins to reconsider what it means to be rich.
4. Mary Anne & Frank- Jingjing Tian (Writer, Director), 10:40, 2021. A lonely, reclusive senior citizen seeks a release from life after the passing of a loved one.
5. Love In the Time of Corona- Cambria Matlow (Director), 3:05, 2021. Nalimu describes his music as earnest and emotional, minimal but captivating, soulful but subdued.This music video taps into these sensibilities and rides the bittersweet groove.
6. PROCESS Ep 001 Raiden Gorby- Kristen Kingsbury (Writer, Director, Editor), 14:10, 2023. PROCESS is a docuseries that features creatives at the top of their industries, the story of how they got to where they are, and how they do what they do so well.
7. Private Chat- Ashley Song (Writer, Producer, Star), 12:22, 2022. A scintillating window into the voyeuristic world of cam modeling, challenging the preconceived notions and stigma around sex work.
Each film in the program will be eligible to win the Audience Choice Awards- a $500 cash prize, and gifts from Gearhead and the McMinnville Short Film Festival.