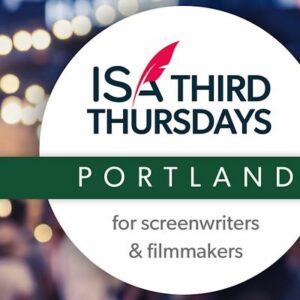 Don't miss ISA Third Thursdays PDX on September 21st — the monthly mixer for Portland screenwriters and the film and TV community — featuring this month's special guest, Chris Skaggs! He's founder, COO, CTO, and Co-owner of Soma SetWorks and Soma Games, LLC, and is the chief creative and technical officer at both Portland, OR-based companies. His long history of blending the creative arts with technology has led him to create and produce a huge variety of cultural artifacts including graphic novels, music videos, songwriting, short stories, and, of course, over 200 video games and apps deployed on most every platform available including Xbox, PlayStation, Steam, Alexa, and Oculus Rift. In addition to being a prolific creator Chris' technical innovation spans decades and was recognized by Intel as a Blackbelt Innovator in 2001, their highest award in the field. When he's not blending art and science Chris speaks and writes in places like GDC, SeriousPlay, GDC Next, Imladris, IDF, Lion's Den, Casual Connect and many more.
WHEN: Thursday, September 21st at 7 p.m. — check-in starts at 6:30
WHERE: Grinds & Vines – Coffee & Wine Bar — SE 35th & Yamhill (3520 Yamhill Street). The entrance is on Yamhill, in the basement of Sunnyside Community Center.
Register here for this FREE.
ISA DOOR PRIZES provided by ISA.
Special thanks to our sponsors: Grinds & Vines and NW Documentary.