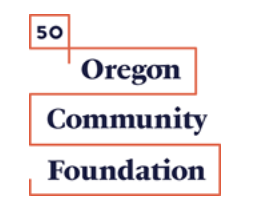 Oregon Community Foundation's Small Arts & Culture Grants Program is now accepting applications!
Could your organization use some support to advance your mission? Oregon Community Foundation (OCF) seeks applications from arts and culture nonprofit organizations with budgets under $100,000. One-year grants of $1,000 to $5,000 for general operating support will be awarded across the state with $350,000 in total grant funding available annually.
Review the eligibility guidelines in the Request for Proposals to see if this opportunity might be a good fit for your organization. If you still have questions visit the OCF website and peruse the FAQs at the bottom of the page.
OCF will be hosting office hours for applicants on September 19, 2023 from 2-3 p.m. Please feel free to join us at your convenience during that timeframe to connect and ask any questions you may have about the application process. Information on how to join us via Zoom can be found on our website.
To register for or sign-in to the online grant portal, please click on the "MyOCF" link at the top of the OCF home page. If your organization has not applied through "MyOCF" before, you are strongly encouraged to register well in advance of the application deadline.
The application deadline is October 9, 2023 at 5 p.m. (PST).
If you have any questions please contact OCF at [email protected].