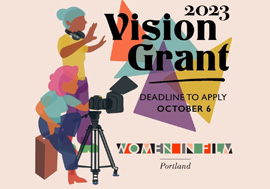 In their ongoing commitment to empowering local filmmakers, Women in Film PDX is increasing the grant amount to $10,000 for this year's recipient (previously at $5,000).
The Vision Grant, now in its 11th year, has been a cornerstone of Women in Film PDX's mission to foster creativity, innovation, and inclusivity within the film community. The grant is designed to provide financial support to emerging female and nonbinary filmmakers in the Portland Metro area, enabling them to bring their unique visions to the screen and contribute their diverse voices to the world of cinema.
The Vision Grant provides financial support ($7,500) to women and non-binary media creators in Oregon and SW Washington (Clark County). This project-based grant aids in a current production while fostering the artist's professional and personal development.
Finalists will be asked to participate in a pitch session to determine the grant recipient. One grant awardee will be selected to receive $7,500 and the opportunity for mentoring.
This program is supported in part by Oregon Film and the Creative Opportunity Program.
Eligibility to apply:
WIF-PDX active membership
50% women and non-binary crew
Current resident of Oregon or SW Washington
Production and post-production takes place primarily in Oregon
Deadline to apply is 11:59pm on October 6th, 2023
Finalists will be notified in November 2023
If you have any questions about the application process, please email [email protected].
We also encourage you to join us at the Fundraising For Your Indie Film event on 8/31.