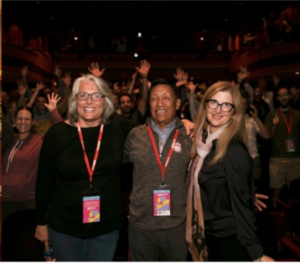 BendFilm is seeking a dynamic and entrepreneurial ED who loves film and is energized to lead the organization in its continued growth, building on our rich history of bringing independent cinema and related programming to Bend, Oregon and beyond. The job is exciting and varied, and suited to an individual who thrives working with creative people and is motivated to connect with filmmakers, share the great films we discover, and advance our efforts to serve and build a more diverse, equitable, and inclusive community. As we grow, we'll aim to maintain our independent- film niche and preserve our small-organization culture. In the long-range, our goal is to own a building suited to accommodate our annual festival and office. In order to meet the job's varied dimensions, the new ED will need strong leadership and management skills, a deep knowledge of film and the industry, excellent communication, networking, and fundraising skills, and a depth of interpersonal skills.

BendFilm's new ED will lead and empower the organization's small yet highly capable staff team, working in partnership with an active Board of Directors. In addition to providing oversight of the staff and operations, this individual should be prepared to roll up their sleeves as needed, to get the job done. The new ED also should be enthusiastic to assume a considerable external focus, building the visibility of the organization both in our local community and nationally, fostering partnerships, and playing an active role in fund development efforts, in order to support sustainable financial and programmatic growth.
You can find out more on the Job Announcement site. Application period is open through August 27, 2023.