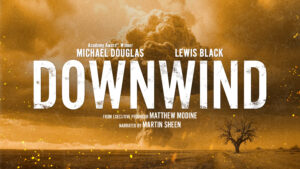 My name is Mark Shapiro and I'm the co-director/producer of DOWNWIND, a new documentary that exposes the US Government's 928 nuclear detonations from 1951-1992 at the Nevada Test Site near Las Vegas and the impact of radioactive fallout on countless communities — and the environment.
Watch the DOWNWIND trailer here: https://vimeo.com/manage/videos/831729316
The film features two-time Oscar-winner Michael Douglas, political satirist Lewis Black and is narrated by iconic anti-nuke activist Martin Sheen. Matthew Modine from Stranger Things is the executive producer. Legendary animator Bill Plympton contributed original animation.
DOWNWIND will premiere August 18 in select theaters and video on demand. You can pre-order the film today on iTunes before it goes to other platforms: https://tv.apple.com/us/movie/downwind/umc.cmc.z5p0194bz3o5cxrpuscbneir
Our documentary also includes the inspirational stories of "downwinders" who live in the path of radioactive fallout like Mary Dickson, Claudia Peterson and Ian Zabarte, Principle Man of the Western Bands of the Shoshone Nation. Roughly the size of Rhode Island, the Nevada Test Site sits on Shoshone land, by treaty, yet it still remains occupied, restricted — and operational.
For some context, over the 41 years of testing in Nevada, 100 atomic bombs were detonated above ground from airplanes, towers, cannons and balloons; 828 tests were conducted underground, including Boxcar, a 1.3 megaton blast with an equivalent yield of 65 Hiroshima bombs.
In addition to watching our film, I'm hoping you will SHARE information about our film with your personal community (including with friends and fam, on your social posts, in your blogs, articles, etc.). Please follow and tag us: @downwind_film

We funded this film with one (warped) credit card so we don't have the resources of, for instance, OPPENHEIMER. But, unlike OPPENHEIMER, DOWNWIND tells personal stories first-hand, from REAL folks who have been forever impacted by this unforgivable time in US history. Your help spreading the word about our film to ALL your contacts will really initiate a space for conversation and improve the lives of many who need our support. Downwinders continue to experience unimaginable health consequences from nuclear fallout which has become generational, and continues to this day.

Also of note, on March 7, I personally toured the heavily guarded Nevada Test Site and would love to share thoughts on that eye-opening experience! Please reach out to me via DM @downwind_film or [email protected]

Grateful for your support.


Mark
================
Mark Shapiro
Co-director/Producer, Backlot Docs, LLC
www.backlotdocs.com
https://www.rottentomatoes.com/m/downwind
Slamdance Film Festival, Spotlight Screening World Premiere, Park City, Utah