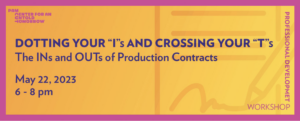 Join PAM CUT as we welcome the Head of Business and Legal Affairs at Academy Award-winning ShadowMachine, Rosemary Colliver as she discusses the very pertinent and important production contracts, how to properly create one, and what to be aware of to keep your creative project safe. Coming along for the ride is Academy Award-winning producer Melanie Coombs (Guillermo del Toro's Pinocchio, Harvie Krumpet) to help provide further insight with real-life experiences to help participants better understand the importance and necessity of these contracts.
Topics to be covered include:
Contracting – who, what, and how
Definitions and industry terms to be aware of
Pre-Production, Production, and Post-Production Matters (NDA's, insurance, unions/guilds, writers, casting, talent, clearance [fonts, music, art, script title…] and deliverables)
Planning ahead and planning ahead again!
About Rosemary Colliver
Rosemary has an extensive background in intellectual property law, with an emphasis on copyright and entertainment issues, including film, music, television, video games, publishing, and sports marketing. She joined ShadowMachine (Los Angeles, CA, and Portland, OR) in 2019 as Head of Business & Legal Affairs after spending seven years as General Counsel and Head of Business Affairs for LAIKA animation studio in Portland, Oregon. Prior to LAIKA, she worked at Tonkon Torp and Stoel Rives in Portland as well as two entertainment law firms in Los Angeles. Rosemary has represented rockers, rappers, producers, movie studios, record labels, writers, athletes and apparel companies as well as video game developers and publishers. Rosemary received her J.D. from Loyola Law School and B.A. from Seattle University. She has served as the President of the Board for Live Wire and currently sits on the Board of Directors and Executive Board for the Children's Cancer Association, the Board of Directors of Mt. Scott Learning Centers, the Board of Directors of the Oregon Governor's Office of Film and Television, and co-chairs the Portland Art Museum's PAM CUT committee. She is married with two kids in college, and a cat (Tiny) and dog (Maysie) at home. When not otherwise engaged, Rosemary spends her free time golfing and practicing hot yoga.
About Melanie Coombs
Melanie is an award-winning producer of animation, documentary and dramatic film and television. Awards include the 2004 Academy Award for HARVIE KRUMPET, the Asia Pacific Screen Award for Mary and Max and the
AFI Award for Break and Enter. The feature The Death and Life of Ottom Bloom was the Opening Night film of the Melbourne International Film Festival
July 2016. Since 2010 Melanie has been working in the UK and USA and joined animation powerhouse ShadowMachine in 2017. Melanie was Co-Producer and Production Supervisor on Guillermo del Toro's Pinocchio, the stop motion animation adaptation that won the 2023 Academy Award for Best Animated Feature. Melanie is an Ambassador for Screenrights, a member of Women in Animation, Women in Film, and is a member of the Animation Branch of the Academy of Motion Picture Arts & Sciences.
PAM CUT's Professional Development Workshops are supported by Oregon Film's Creative Opportunity Program