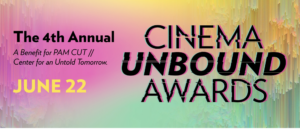 Portland Art Museum's PAM CUT // Center for an Untold Tomorrow announces the honorees for the fourth annual Cinema Unbound Awards. Honoring artistic innovators not content to be contained, the annual Cinema Unbound Awards celebrate multi-faceted folks working at the intersection of art and cinema who are pushing the boundaries of what's possible.
Working at the intersection of art and cinematic storytelling in all its forms, this year's recipients Fred Armisen, Guillermo del Toro, Gregory Gourdet, Jon Raymond, Jacqueline Stewart, and Tessa Thompson will be honored at an in-person event at the Portland Art Museum in Portland, Oregon on June 22, 2023.
This year, the awards will feature a culinary take-over by Gregory Gourdet's 2023 James Beard Foundation Award finalist for "Best New Restaurant," Kann. The Haitian live-fire restaurant was recently named the #1 "Best New Restaurant in America" by Esquire and one of the top 50 new restaurants in America by The New York Times.
As one of the few major art museums in the U.S. that celebrates cinematic storytelling and new media center in all its many forms—ranging from including film, television, new media, animation, audio storytelling, gaming, immersive arts, and boundary-pushing multi-sensory XR & VR—Portland Art Museum's PAM CUT is uniquely positioned to present this award honoring bold cinematic creators who use their vision to challenge for whom, by whom, and how stories can be told.
"In its fourth year, the Cinema Unbound Awards continue to shine a light on the most innovative and exciting folks pushing the future of storytelling forward," says Amy Dotson, Director of PAM CUT and Curator of Film and New Media at the Portland Art Museum. "These creative polymaths share their artistry, their joy, and unique points of view with audiences around the world and continue to advocate for change within the media arts landscape. By pushing the boundaries of what's possible—as well as advocating and mentoring new artists who are audaciously flipping the script on the status quo—these artists deserve appreciation not just for their incredibly prolific and diverse bodies of work, but also for their visionary approach to living life authentically and inclusively."
"I grew up seeing movies at the Northwest Film Center (now PAM CUT)," said honoree Jon Raymond (Showing Up). "I saw Out of the Past there as a teenager (I was so high!); Paul Morrissey introducing, I think, Heat (God, what a beautiful, imperious figure he seemed to be); Matthew Barney's Cremaster movies (which I'd been reading about for years). PAM CUT has been such a huge part of my filmgoing Iife. To be honored with a Cinema Unbound Award now is beyond thrilling. It's more like totally humbling."
Lead support for this year's awards is provided by LAIKA, with additional support provided by Netflix, Mary and Don Blair, KeyBank, Gucci America, The Ritz Family, and ShadowMachine.
"As a company deeply invested in the cultural fabric of Portland, LAIKA is honored to lend its support to this year's Cinema Unbound Awards and to join the museum in celebrating its essential role in our city's creative landscape," says LAIKA Chief Marketing Officer David Burke.
Past honorees at PAM CUT's Cinema Unbound Awards include artists Steve McQueen, Shirin Neshat, Garrett Bradley, Carrie Brownstein, Reinaldo Marcus Green, Phil Lord and Chris Miller, Roger Ross Williams, Gus Van Sant, Todd Haynes, and John Cameron Mitchell, and industry leaders such as UTA Fine Arts' Arthur Lewis, MOMA's Rajendra Roy, Venice Biennale XR Michel Reilhac and ShadowMachine co-founder Alex Bulkley. Presenters have included Academy Award Best Picture winners Bong Joon-ho and Chloé Zhao, as well as multi-faceted artists Isabella Rossellini, Charles Burnett, Ta-Nehisi Coates, Alessandro Michele, and Justin Vivian Bond.