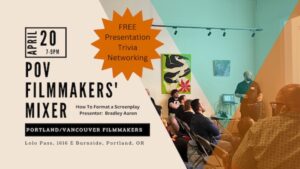 Join the POV Filmmakers for our monthly in person mixer.
Thursday, April 20th, 7-9 pm
Lolo Pass, 1616 E Burnside in the Gallery.
The April mixer will feature a presentation from Bradley Aaron, Screenwriter, on How To Format A Screenplay (approximately 20 minutes), followed by a fun trivia game, then plenty of time to network with other filmmakers. Open to all, this event is free to attend no matter where you are in your filmmaking journey. We meet every Third Thursday. You can find out more about us on facebook or instagram.