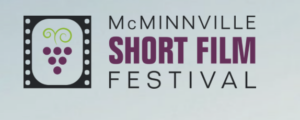 MSFF runs from February 23 to February 27 in beautiful McMinnville.
The McMinnville Short Film Festival fosters a critical component of Oregon's Yamhill County arts community by connecting local filmmakers with their counterparts around the world, and by providing a venue for culturally diverse screenings, events, and gatherings.
Find out more, see the schedule and get your tickets here: https://mcminnvillefilmfest.org
Promoting film in Oregon's Yamhill County
• MSFF offers a small but culturally-rich community experience usually only offered in large cities or higher-ed academic settings.
• MSFF creates both a *market* and jumping off point for Oregon filmmakers as well as actors, directors, crew, etc.
Connecting local filmmakers with their counterparts around the world
• MSFF exposes local and worldwide artists to each other to share their diversity and enrich their crafts
• MSFF brings filmmakers from around the world to our area, which boosts the local economy
• MSFF draws from a large base of participants from around the world due to current trends that focus on independent film production
Providing a venue for culturally diverse screenings, events, and gatherings
• MSFF brings voices from around the world to Yamhill County
• MSFF provides our local community with powerful and engaging stories they may not get to see
• MSFF is the ultimate type of artistic synergy and networking opportunity. MSFF provides a format which brings both the filmmakers and audience into the same space.
• MSFF fosters community-based interactions, contributing to important conversations that continue long after the event