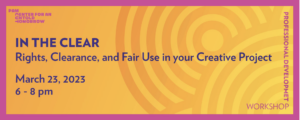 Join PAM CUT, and attorneys Rachel Goldberg and Christopher Weathers on a deep dive into the world of Rights, Clearances, and Fair Use for media projects including film, television, video games, XR, etc.
This professional development workshop, supported by the Oregon Film's Creative Opportunity Program will take a closer look at just what it entails for a media maker to inquire about, license, or incorporate into their project intellectual property such as music, images, artwork, and more. Along for the ride, seasoned producer David Cress will provide real-world examples of issues that have arisen on productions and how they could have been avoided. This is an in-person workshop with ample time for question and answer.
Topics covered in this workshop include:
Copyright Infringement
Trademarked Works
Fair Use
Terms of Usage
Permissions and Releases
Length of time needed to acquire for production
Similarities or differences in regard to types of media productions
This class will be limited to 15 registrants. Find out more here: https://pamcut.org/colaboratory/prodev1/
About Rachel
Rachel Goldberg helps content creators bring their creative visions to life while minimizing risk and litigating when necessary. As an experienced litigator, Rachel has worked on matters before the U.S. Supreme Court and U.S. Courts of Appeals, along with federal district and state courts at all levels for corporate and pro bono clients. Rachel also maintains an active counseling practice for a broad range of media clients, with a focus on pre-publication review to advise on copyright, right of publicity, right of privacy, and defamation risk.
About Christopher
Chris Weathers works strategically and efficiently to provide creators with first-class media, entertainment, and other content-related legal services. For many clients, Chris acts as the point person for their day-to-day development and production legal needs.
Chris services audio, audio-visual, performance art, video game, esports, and print and digital media productions and platforms for major industry players, as well as independent and startup companies. Chris also assists companies in industries outside of media and entertainment with their content-related needs.