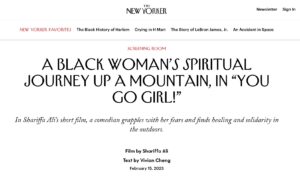 We are excited to see Vivian Cheng's article and spotlight in the New Yorker magazine (Interviews Issue+ Screening Room) today on Shariffa Chelimo Ali, Director + Co-writer of "You Go Girl!".
"You Go Girl!" – the fourth annual Outdoor Adventure Film Grant– "Oregon's Outdoors Are For Everyone" winner (OAFG21) screened at Sundance 2022 in the U.S. Live Action Short Films, and also the Oregon Shakespeare Festival O site. Filmmakers, Shariffa Ali, Kamilah Long, Courtney Williams, and Adrian Aleas' short film tells the story of Audrey, a New York City comedian who can make a joke of any situation, facing a staggering challenge in the beautiful mountains of Oregon. Can this city woman overcome her fears and rise? "You Go Girl!" was included as part of a celebration for Sundance's 40th anniversary.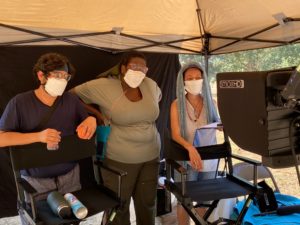 The $20,000 Grant was provided by the Oregon Made Creative Foundation in conjunction with Travel Oregon and was awarded to a small team of independent filmmakers and a production company based in Southern Oregon: Shariffa Ali, Kamilah Long, and Adrian Alea, who describe themselves as, "the perfect amalgamation of specialized skills and lived experiences. We are a collective of theatre-makers, film producers, fundraisers, writers, designers, and community organizers who have just completed principal photography on our first collaboration, a short film entitled "Ash Land" which follows an African-American woman, living in the wilds of Oregon, who receives a visitor that forces her to reconcile her past and re-imagine her future."
"You Go Girl!" was created in partnership with producers Adrian Alea (ALIALEA Productions), Kamilah Long (The Black Whole, Inc.), and Courtney Williams, and was made possible, in part, by  the Outdoor Adventure Film Grant from the Oregon Made Creative Foundation, Travel Oregon and Oregon Film, and the Oregon Shakespeare Festival.
The Team:
Shariffa Chelimo Ali (Director + Co-writer) is an international creative leader committed to advancing radical change through the power of art and activism. She works across disciplines directing films, virtual reality experiences, and plays and moves her audiences to engage with timely issues touching upon Black, Afropolitan, and African-American identities. She is the current Artist-in-Residence at the Oregon Shakespeare Festival. www.shariffa.com
Kamílah L. Long (Lead Producer, Actor) is an Oregon-based innovative leader and dynamic theatrical professional, her multifaceted theatre career includes roles as an actor, director, producer, educator, fundraiser, activist, and speaker. She started her career in theatre as a storyteller, which led her to join Actors Equity and becoming a professional actor before completing her undergraduate theatre degree from Alabama State University.
Adrian Alexander Alea (Creative Producer) is a Queer Cuban & Ecuadorian-American creative producer and director raising the social consciousness of humanity through storytelling and community building in non-profit, commercial, and trans-media enterprises. Adrian is fueled by producing intimate films that elevate underrepresented voices and evoke a sense of healing and catharsis. www.adrianalea.com