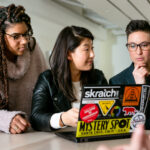 Calling all Oregon student filmmakers! We welcome filmmakers from colleges across Oregon to apply for the 2023 NW Documentary shorts program in collaboration with Portland State University's InventOR program.
What is the InventOR documentary program?
Through the InventOR documentary program, students will create short films about an InventOR team at their school or surrounding area. InventOR is the state's only college-level prototyping competition that empowers students to see themselves as innovators and take their ideas for inventions from concept to reality. 
As a team's documentarian, you'll get a front row seat as InventOR teams form, pilot their ideas, and launch their inventions. Your task will be to capture this spirit of innovation and entrepreneurship with your own style and creative lens. The program will run from February – June 2023, and you'll follow your team as they take their idea through innovation bootcamp, semifinals, and hopefully all the way to the final competition. Think Science Fair anthology-style. 
What will I get out of the program?
Student shorts will live in an anthology series alongside those of students from other schools. You'll work on your film in collaboration with other college filmmakers from across the state and with mentorship from NW Documentary. Throughout the program, you'll receive advice and workshopping through regular Zoom meetings, professional connections, gear grants, and screening support.
How do I apply?
Applications are open now through February 6th, 2023. It is a free program and application process, and we'd like to get a wide array of Oregon students involved! Find out more details on the time commitment and resources offered here.
Please reach out to [email protected] with any questions or to schedule a Zoom chat with one of our mentors.
Sincerely,
Your friends at NW Documentary
https://www.nwdoc.org/invent-oregon/
https://www.inventoregon.org/