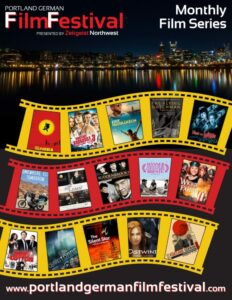 The
Portland German Film Festival
is showing in our
Monthly Film Series,
a variety of GERMAN or GERMAN language films from Germany, Austria, and Switzerland. On the
2nd Tuesday
of each month, audiences will have a chance to see these films on a regular basis at the
CLINTON STREET THEATER
. (Children's movies will be playing on Sunday afternoons – please check our website.)
All films are with English subtitles.
GUNDERMANN (Gundermann)
Tuesday, February 14, 2023 – 7:00 PM
Germany 2018, 128 min
Directed by Andreas Dresen
After his outing into family entertainment with TIMM THALER, director Andreas Dresen has now returned to Germany's recent past with his portrait of the contradictory life of the digger driver Gerhard Gundermann who made a name for himself as a singer-songwriter in former East Germany, tragically dying at only 43 in 1998. As the hero/anti-hero Gundermann, Alexander Scheer – whose previous credits include SUN ALLEY and THE YOUNG KARL MARX – wants to be a good worker, great husband, caring father, artist, clown, and politician – in fact, he is everything at the same time. And the type of person who can't help rubbing others the wrong way – not something that's only restricted to his home of East Germany….A daring insight in the ex-East German society. Based on a true story.
Bavaria Film Prize 2019 (Best Leading Actor)
German Film Awards 2019 (Best Film: Gold, Best Directing, Best Screenplay, Best Leading Actor, Best Production Design, Best Costume Design)
Here is the
link
to the trailer.