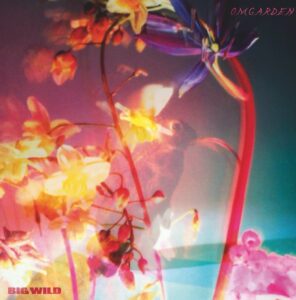 The upcoming animated music visual release, coming from internationally-acclaimed artist Big Wild in collaboration with design-driven animation studio Deep Sky, based in Portland, Oregon, is releasing alongside Big Wild's new single "OMGarden" (due out on July 27.) The accompanying animated visual accentuates the song representing a vision of nostalgia filled with pure adventure, euphoria, and glitter as the characters find a sense of unbridled freedom and unlimited possibilities in a worry-free dimension. Deep Sky is an animation and live-action studio known for partnering with the world's most influential creators and brands.
"When I first started creating the foundation for 'OMGarden' it immediately sparked an image of an ethereal and massively lush garden. Shameem (his wife and creative partner) sketched out a whole scene with a detailed storyline of our pet bunny, Mopsy, a magical slug, and companion butterflies as the lead characters of the story in a matter of minutes. Mopsy shows us the power of presence on a daily basis as a senior rabbit who starts every day with fresh excitement in his eyes and curiosity with everyone he meets. Every day he embodies youth as he defines it by his state of mind instead of the constructs of time." – explains Big Wild
Critically-acclaimed recording artist and producer Big Wild (aka Jackson Stell) delivers a glittering new single "OMGarden," accompanied by an equally enchanting animated music video in collaboration with design-driven animator group Deep Sky. The jovial record sees Big Wild experimenting with unique vocal manipulation and atmospheric production to create an ambiance of childlike wonder. The sonics embrace the best of times when your heart is light and your mind is utterly free.
The accompanying animated visual accentuates the record. Representing a vision of nostalgia filled with pure adventure, euphoria, and glitter, the brown and white bunny finds a sense of unbridled freedom and unlimited possibilities in a worry-free dimension.
"As fans ourselves, collaborating with Big Wild was an incredibly fun and inspiring experience. They approached us with a uniquely personal idea and concept for the music video, which gave us a creative pathway to explore the characters, the environments, and the magical realism of Mopsy's forest party. It is always such a gratifying experience to be able to work so closely with other artists to build and expand upon their vision."- Barret Thomson, "OMGarden" Video Director
The single and music video ushers in a colorful new world, teasing the sound of Big Wild's forthcoming sophomore album The Efferusphere – due out September 9th.
The synesthetic, full-length project embodies openness, honesty, balance, and color. An empathetic new world that encourages the listener to sit with themselves and explore; a safe space to dive into their inner depths. The multi-hyphenate also recently announced a new 21-date tour with North American support from Biig Piig, set to kick off September 14 in Philadelphia, PA.
His continuous artistic evolution and exceptional ability to meld sounds sets him apart from his peers, putting him stylistically in a lane solely his own. Moreover, as a performer, Big Wild is one of the most sought-after progressive rising acts on the circuit today. Backed by a full live band, his live show has him switching between multiple instruments (drums, synths, keyboards, and live vocals) to deliver a jaw-droppingly energetic, hybrid set – infused with high-octane pop, indie, dance, and disco elements, distinguishing himself as a standout artist that is not to be missed.
In 2022, he has carved a unique new lane for himself that was born out of pandemic isolation. Enter highly-anticipated sophomore album – The Efferusphere. The portland-based producer has departed from the electronic textures of his past for something more homespun, acoustic, and introspective. This parallel dimension he discovered in his two-year seclusion was one in which emotional energy defined the laws of what you see, of what you hear, based on how you feel. He came to know The Efferusphere as the emotional atmosphere of life on earth. In this dimension, you can physically see and feel the saturation of tension, joy, guilt, and happiness. Emotional weather patterns and phenomena exist here.
This empathic album's cerebral tenor exists in the realm of deep self-reflection and intimate searching. On The Efferusphere, Stell gets real with himself about how to be better. As he attempted to grasp and contextualize his internal self through the experimental tool of music and writing, in a moment of pure chance, he hit a special frequency that allowed him more awareness than ever before. That's why each song explodes with life and deep thought, and why it's clear how life-affirming music is for Stell.
His beginnings as an artist started in the electronic space. He gained global traction topping global viral charts and having his music appear in major brand campaigns for the likes of Apple, The Olympics, American Eagle, and more after his first releases via Foreign Family Collective and his debut album Superdream (Counter Records), but his long-term endeavor is one of evolution.
This forthcoming project is the ultimate representation of such. Truly genreless in nature, he is not confined by preconceived notions of modern sound.
He delves deeper into his emotional capacity and encourages those around him to open their eyes and do the same. All-encompassing, it's a journey to the center that sees Stell exposing deeply intimate parts of himself to the listener: it vacillates from anthemic "Feel Good" moments in celebration of self, of return to the euphoric joy, found in the inner child, to colorful, yet tense indie-rock and power-pop electrified choruses that bring the outward world into his own experience. It's an exploration of turmoil and frustration – but also of communal glee, life-changing connection, and how we relate to others through the guise of emotion. An exultation, it celebrates the darkness and light we all live within in an honest and truly raw manner. It's an inescapable spiritual pull toward the undercurrent that exists all around us – The Efferusphere.
Watch "OMGarden" Animated Video – https://youtu.be/8Y2-1C8dV6A
For more info on Big Wild:
TikTok | Instagram | Twitter | YouTube | Spotify