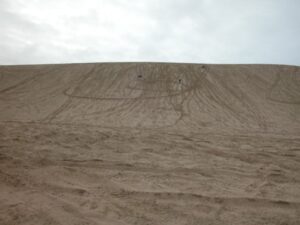 You still have time to take part in the City Lights Cinemas and the Siuslaw Public Library District presentation of the "Frank Herbert Dune Celebration," honoring the historical ties between the Florence dunes and the seminal science fiction classic that influenced a generation of books, music, and films.
In 1957, Herbert traveled to Florence, Oregon to write a magazine article on the Oregon Dunes. "…Sand dunes have been known to swallow whole cities, lakes, rivers, highways," he wrote to his agent, fascinated by the struggle between nature and humanity.
The article never materialized, but the awe of the Oregon dunes became the inspiration for "Dune," one of the most influential science fiction novels of all time.
See both the 1984 Universal picture directed by David Lynch, and the greatly anticipated 2021 Warner Brothers adaptation directed by Denis Villeneuve, while learning the rich history behind Dune and the Oregon Coast.  Experience the world of Frank Herbert in the birthplace of Dune – Florence, Oregon.
See the 1984 David Lynch classic Dune on the big screen, and discover the tumultuous journey to bring it to cinemas, along with its ties to some of the biggest hits in cinema history.  The grandson of Frank Herbert, who was a consultant on the new Dune film, talked about the legacy of Dune and Florence. Short film produced by City Lights Cinemas and Siuslaw Public Library.
Contrast the book and the film from page to screen in an open discussion led by library director Meg Spencer. Both the novel and the new graphic novel are available at the library and City Lights Cinemas.
Discuss the themes and the meaning of the Dune with the library's regular virtual book club. Contact [email protected] or call 541-997-3132 for meeting details.  For tickets go here.