Nestled on 23 acres with nearly 20,000 lavender plants of multiple varietals, Lavender Valley Farm is at the foot of the majestic Mt. Hood in Oregon. The multi-family owned charming farm is a working farm that harvests, distills, and packages lavender beauty and household products. For the first time ever, the 10-year old Lavender Valley Farm is available for location shoots and events.
Lavender Valley Farm offers stunning views and striking outdoor spaces unlike anything in Oregon. You'll feel as if you've entered the French provincial countryside of lavender farms. The signature proprietary Lavender Valley Farm landscape shot with year-round snowcaps of Mt Hood in the background can be found in art galleries all over the country. Lavender Valley Farm has fast become a global destination.
Lavender Valley Farm is six miles away from its nearby adjacent River Song Ranch, a 92-acre property owned by the same family with a four-bedroom farmhouse, a super large funky Yurt, an additional house in the woods, a weathered authentic classic barn, green pastures with cows, and several more acres of beautiful lavender. It borders the Hood River with salmon fishing. Both locations work artistically and logistically for any type of production.
Lavender Valley Farm and the River Song Ranch offer many different sceneries depending on the time of year. And while the peak lavender season of July and August is obviously a premier time to leverage the epic locations of the peak purple lavender in season, the winter can offer equally spectacular accommodations and views, especially of Mt Hood with lavender plants in the foreground. Between the two locations, ten minutes apart, we present lots of options to fit the needs of the script scenes. Both locations also have more than sufficient space for honey wagons, wardrobe trailers, catering trucks, and support vehicles, prop trucks, special effects trucks, motor homes for actors, vans for shuttling cast and crew, production cars, picture vehicles, and cranes if needed. Both locations are open to year-round filming.
Located in a region known as part of the fruit loop in Hood River not far from The Gorge and the Columbia River on the Washington State border, both one-of-a-kind locations are available for filming, photography, photoshoots, commercials, and high-end production—short term and long term. Corporate events and wrap parties are available too.
The lavender farm owners will allow some prior approved modifications to the farm property and will consider some reductions in the rents for acceptable modifications that stay with the property. We recognize production personnel is under time constraints in confirming a location. If a location scout or production team is in dire straits and needs a location as soon as the next day, Lavender Valley Farm can move on a dime to accommodate once permits are approved. 
Lavender Valley Farm Property Characteristics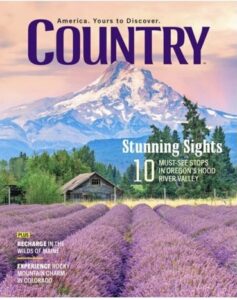 23 acres
20,000 lavender plants
Peak season is July and August
Retail store that is approximately 350 square feet
Modern barn with tractor and lavender distilling processing area
Bathroom and shower in the barn
Enclosed product manufacturing lab within the modern barn
On-site representative to monitor and assist
Water from a private well, and sewer services available
Cooperative neighbors
River Song Property Characteristics
92-acre ranch property
5 acres of lavender fields
20 acres of grass pasture
Yurt
Borders Hood River
Farmhouse – 4 bedrooms and wood burning stove/fireplace
Front porch
Stairs
Fireplace
Barn
Cow pasture
Dense Woods
On-site representative to monitor and assist
Water from a private well, and sewer services available
Cooperative neighbors