The fast-growing sector of Film Tourism has been on Oregon Film's radar for multiple years and was one of the many compelling reasons that motivated and helped develop the Oregon Film Trail.  The Trail is now totalling 33 stops (and growing) and stitches together communities, locations, small businesses and notable film sites at iconic filming locations and strategic points across Oregon. The markers create a presence and a point of interest for visitors to gather, take pictures, retell stories, and celebrate Oregon's rich contribution to filmmaking since the early 1900's.  Many Oregonians worked on, or were part of these productions that have highlighted Oregon on the screen for scores of years, and the exposure has meant that Oregon receives an increasing volume of tourists every year. We are starting to more fully understand what it means to accommodate movie lovers who seek to visit the real-life locations of their favorite favorite films, TV shows, and video games. This is why the Oregon Film Trail  is partnering with SetJetters  to elevate what they call "the Reel to Real" experience!  As Film Tourism (also known as SetJetting) is becoming more popular and the demand for visiting filming locations is growing, it is becoming clear that building a physical Trail infrastructure and partnering with our communities to accommodate visitors (both local and more far-flung) is worthwhile. Our partnership with SetJetters extends the Oregon Film Trail initiative so that visitors from anywhere in the world can easily find actual scene locations around Oregon via an interactive experience on the Setjetters mobile app.  The app not only allows the user to find locations but also to connect to special deals and experiences within our local communites, as well as the ability to caputure on-site location photos "exactly the way you remember them from your favorite films." (SetJetters.)

The Oregon Film Trail and SetJetters recently had an opportunity to help support a community event – the annual Stand By Me Day celebration in Brownsville.  This charming small town was the main filming location for Stand By Me and many visitors from all over the world travel to Brownsville every year to experience the magic for themselves. It is also home to three stops on the Oregon Film Trail, and close by in Eugene and Cottage Grove are multiple locations from other well-known films.  As well as enjoying the events of the annual Stand By Me Day we collectively invited the public to immerse themselves in finding as many scene sites as they could from movies filmed in the region by downloading the SetJetters app  and playing what we dubbed as the "Tri-City" Scavenger Hunt.  Many players visited Brownsville, Eugene and Cottage Grove and through the SetJetters app they were able to see themselves in their favorite scenes by using the fun "ShotSync" feature to recreate a unique split-screen image. We asked players to post their images and selfies with the Trail signs and use the #OregonFilmTrail and #StandByMeDay tags. The winner was Mike Schwab (from Eugene) who visitied and posted the most scene sites by the deadline.  He received a fantastic prize package that was sponsored by local businesses who saw value in the contest; the Village Green Hotel (Cottage Grove), the Valley River Inn (Eugene), Buster's Main Street Café (Cottage Grove), Randy's Main Street Coffee (Brownsville), Linn County Historical Museum ,Travel Lane County and the City of Cottage Grove.

Mike Schwab and Rex Moody on the Oregon Film Trail in Brownsville

We caught up with Mike and asked him a few questions about this community experience:

Oregon Film (OF): How did you hear about the Tri-City Movie Locations Scavenger Hunt?

Schwab: I'm involved with the filmmaking community in Eugene, so I'm in the "Lane County Filmmakers" (LCF) Facebook group. Oregon Film posted about the scavenger hunt in the LCF FB group.

OF:Can you tell us a bit about why you wanted to participate in this Scavenger Hunt?

Schwab: I like to do fun adventurous activities, and I like movies. Considering the scavenger hunt was right around where I live, I had to do it.  In Brownsville, it was really fun checking out the cool Linn County Historical Museum. We got some great photos of us dressed up as Oregon Trail pioneers (as men and women). Also, Brownsville was the location of my favorite SetJetters pics, such as the spot where the penny was picked up.

OF:Would you participate in another movie location scavenger hunt, and did you learn anything you didn't already know about Oregon film history, etc?


Schwab: Yeah, I'd do another one, especially if it was in a different part of Oregon. I didn't know there was a movie called "Five Easy Pieces" filmed in a Denny's in Eugene. That was one of the best scenes in the movie, and it was fun to recreate the look. It would have been cool to have some sort of meetup social opportunity for other participants to meet each other. Also, while I gladly accepted the hotel stay prizes, it's funny to receive free nights in hotels around where I live. This would make more sense if people were coming from far distances to do the scavenger hunt. Maybe some did, but realistically it's hard to get many people to travel far to do a scavenger hunt like this. Maybe in the future, the prizes would be hotel stays in another part of Oregon where movies were filmed, like Astoria. Finally, an idea for a future scavenger hunt is one where you have to solve clues to know what movie scene locations you need to go take pictures of. I've done similar clue based scavenger hunts, and they are a lot of fun.

In a very close second place, was Carlos Hererra and his son, both from Corvallis.

Carlos Herrera and son, on the Oregon Film Trail and SetJetters Tri-City Scavenger Hunt.
Carlos said, "My son and I enjoy the outdoors and finding movies scenes and I enjoyed seeing the smile on my son's face posing for the movie scenes. The whole thing was a very good experience for both of us.  I didn't know there were that many movies scenes and movies shot in Oregon."
For well over a century, Oregon's diverse towns and regions have served as varied production backdrops for more than 500 films and television shows. The film industry has flourished in Oregon, bringing recognition and economic gains to countless communities and Oregon's contribution to film began with silent-era films and it continues to be a destination for creative media producers from around the world to this day – and now too for film tourists who want to experience Oregon for themselves!
More about the Oregon Film Trail: The Governor's Office of Film & Television (A.K.A.Oregon Film) and the Oregon Made Creation Foundation partnered to create the Oregon Film Trail. To date, 33 markers have been installed, from Astoria to Klamath Falls, Warrenton to Wallowa Lake State Park, and including the Portland International Airport mural and exhibit. All seven of Oregon's tourism regions are represented on the Trail. Each Oregon Film Trail marker is funded in collaboration with many local community partners and, with matching fund grants (to date) from Travel Oregon, the Oregon Visitors Coastal Association, and Willamette Valley Visitors Association, and with help from Oregon Made Creative Foundation.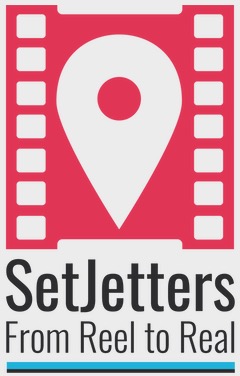 More about SetJetters: aims to reinvent film tourism through a location-based app experience. They strive to not only empower existing SetJetters with great new capabilities but also introduce the joy of film tourism to travelers around the world. The mobile app provides travelers with a single point of engagement for their interest and passion in film tourism. Designed for everyone from the most devoted SetJetters to the most casual tourists, the system will empower travelers with a variety of tools and features, such as:
Browse through and conduct research with our robust film/TV/game location database that covers the entire globe
Plan your film location travel and gain access to special deals and experiences through our travel partners
Capture on-site location photos exactly the way you remember them from your favorite films