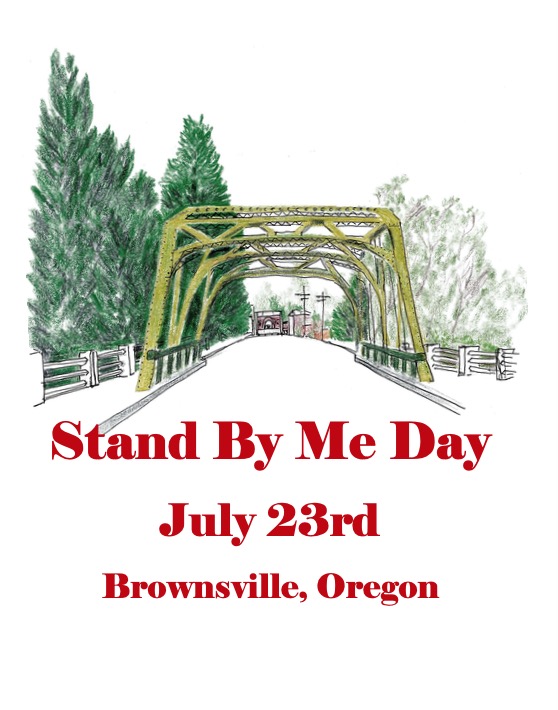 Join Us For A "Tri-City" Scavenger Hunt For Your Chance To Win A Weekend Away In The Willamette Valley!
In addition to the Stand By Me Day celebration in Brownsville, OR, on July 23rd we are inviting you to take your chance to immerse yourself in filming locations from not only Stand By Me but many other amazing movies filmed in the region.  In the process, you could win a fantastic weekend getaway Prize Package!
How do you start?
Create a free user account on the app.
How do you play?
Between 9:00 am PDT on Monday, July 19 and 5:00 pm PDT on Sunday, July 25, visit the Oregon Film Trail signs and SetJetters scenes in and around the cities of Brownsville, Cottage Grove, and Eugene.
While you visit the filming locations, put yourself in your favorite scenes by using the "ShotSync" feature within the SetJetters app to recreate your own split-screen image.
Post your "ShotSync" image to the app's main feed and tag the posts with #OregonFilmTrail and #StandByMeDay.
Make sure that you're logged into your SetJetters account on the app in order to get credit for your posts!
And don't forget to take your selfie with the Oregon Film Trail signs! (Look for the icon on the map to find them.)
How do you win?
At the end of the contest period, the FIRST person with the most "ShotSyncs" posted to the SetJetters app is the winner!
BUT – in case of a tiebreaker, we'll be asking for your selfies taken with the 7 Oregon Film Trail signs at the following locations (look for the Oregon Film Trail icon in the SetJetters app.)
Brownsville:
Stand By Me sign at City Hall.
Stand By Me sign at Linn County Historical Museum.
Stand By Me sign at Pioneer Park.
Animal House sign at Opal Whitley Park.
The General sign at the Row River Trail and North 14th St.
Eugene (these OFT markers are not yet installed, but take a selfie at the future location):
The future home of the "Tracktown" sign – Across from Hayward Field at 17th & Agate.
The future home of the "Without Limits" sign – Pre's Trail at Alton Baker Park, Day Island Road.
SetJetters will tally and verify the results.
The winner will be notified by 5:00 pm PDT on Monday, July 26.
What do you win?
The Prize Package is valid for one year after the contest ends (until July 25, 2022).
The Prize Package must be picked up from the Travel Lane County Visitor Center, located at 754 Olive Street, Eugene, OR 97401. (Visitor Center hours: Monday – Friday, 8:00 am to 5:00 pm and Saturdays and Sundays, 10:00 am to 3:00 pm).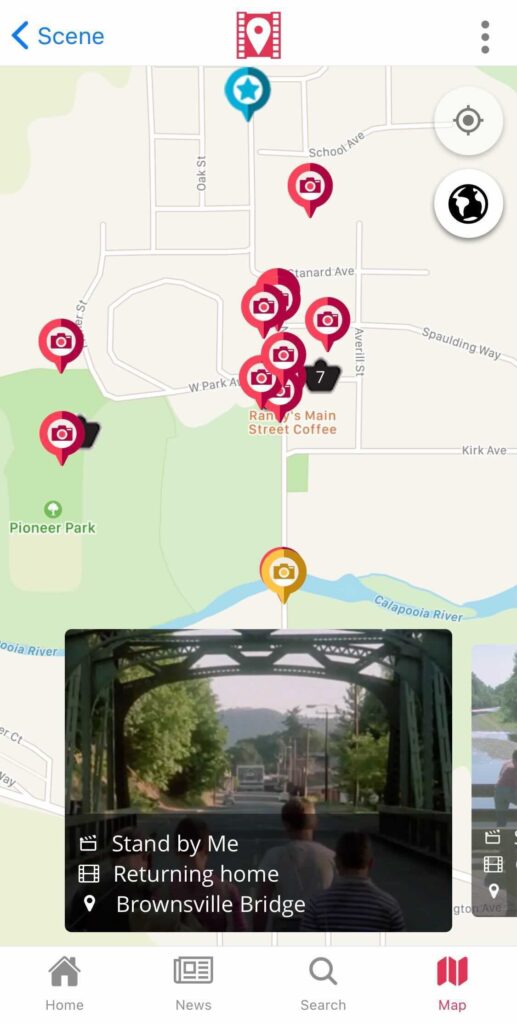 #OregonFilmTrail        #StandByMeDay