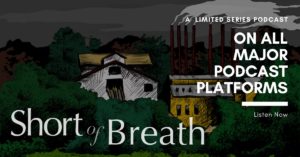 The limited-run narrative podcast series Short of Breath is a small-scale socioeconomic thriller focusing on problems relevant to contemporary working-class American life. While rooted in real human interactions, the series has the tenor, structure, and tempo of a melodrama and thriller.
Set in the days leading up to the election of Donald Trump, Short of Breath follows Olissa, a single mother in her early 30s who loses her factory job in the series' first scene. It's terrible luck and even worse timing. This event, which happens at the end of a shift on a Friday (as layoffs so often do), starts a ticking clock for Olissa. A judge refuses to postpone a custody hearing for her young daughter scheduled just three days away. Olissa is trapped in an all-or-nothing, last-chance scenario. She has only that weekend to find a decent job and clean up her act once and for all, or risk losing her daughter.
Although she means well and tries her best, Olissa is one of those people to whom bad stuff is always just happening. It's always one thing or another with her — drama just seems to follow her everywhere she goes. She's missed hearings and appointments in the past and has demonstrated other irresponsible behavior, and the system is now past caring. Complicating her situation are her battles with addiction and with terrible asthma, made worse by years of abusing her body. Her inhaler is never far from reach.
Says the series' director Dustin Morrow, "I conceived Short of Breath in response to the challenges faced by working Americans following the election of Donald Trump. I was influenced in part by the Dardennes brothers' film Two Days One Night, in which a pending deadline presents potentially devastating social and economic consequences for its protagonist. I also thought a lot about Kelly Reichardt's brilliant film Wendy and Lucy, in which a traveling woman on the brink of homelessness loses her dog after her car breaks down in a city with which she is unfamiliar. What I responded to in that film, aside from the character's dire financial straits, is how sympathetic everyone is toward her, but how few people can actually help her. This is a version of the world we rarely see in narrative media — one in which people are basically good and decent and want to help, but are forced to grapple with the limits of how much they can assist someone else when they probably need a little help themselves. That was the reality of 2016 among an increasingly desperate working class, and it seems only to have gotten worse in the years since Trump's election. I think that Short of Breath is a prescient series, an urgent series."
Produced in Portland, Oregon, Short of Breath was directed by filmmaker and Portland State Film professor Dustin Morrow and features a script by L.A.-based screenwriter Leah Welch. It was recorded and edited by Jubel Brosseau, produced by Christi Dodge, and features an amazing ensemble cast of Portland actors, led by Kristina Haddad in the lead role.
The series can be streamed or downloaded at the following links:
Radio Public
https://radiopublic.com/short-of-breath-6BebBp
Apple Podcasts (iTunes)
https://podcasts.apple.com/au/podcast/short-of-breath/id1527441625?ls=1
Libsyn
https://shortofbreath.libsyn.com/#
Spotify
https://open.spotify.com/show/0korjscbILkRmTdHnD0Ulw
Stitcher
https://www.stitcher.com/podcast/short-of-breath
Google Podcasts
https://podcasts.google.com/feed/aHR0cHM6Ly9zaG9ydG9mYnJlYXRoLmxpYnN5bi5jb20vcnNz?sa=X&ved=0CAIQ4aUDahcKEwjgyIXghZ7sAhUAAAAAHQAAAAAQBA
Podchaser
https://www.podchaser.com/podcasts/short-of-breath-1404379
Vimeo
https://vimeo.com/463964164
Youtube
https://www.youtube.com/channel/UCPNZOkG0oS9MXrnwYBadbZw