The Northwest Film Center and Portland Art Museum are creatively collaborating during these socially distanced times to connect with audiences and bring innovative film and new media exhibitions to our community. The Cinema Unbound Drive-In, running August 6–September 27, 2020, welcomes guests to safely gather and experience the power that truly radical and entertaining cinematic storytelling can bring. This will be the first of many ways to change the archaic paradigm of what cinema can—and will—be.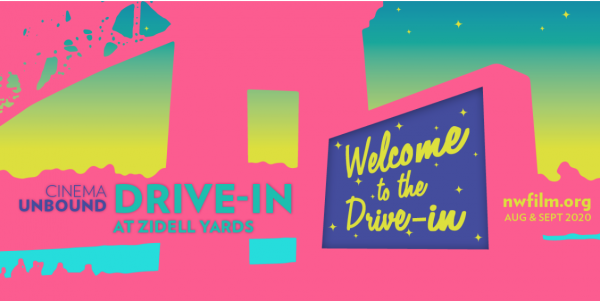 What is the Cinema Unbound Drive-In?
Last year, the Northwest Film Center (NWFC) began a creative reimagining dubbed "Cinema Unbound," a new artistic vision that redefines the notion of cinema to expand beyond the walls of a theater and include cinema, TV, media arts, audio, and immersive storytelling in order to support unique, provocative, and expansive storytellers in new ways.
Our mission is to change for whom, by whom, how, and where cinematic storytelling is told. As a first step, NWFC is building out from scratch our Drive-In at Zidell Yards to safely bring together our community to celebrate and explore cinema in all its forms. Bringing together our community—families, artists, front line workers, partners across the city, cinephiles, and those who simply need a healing night out with popcorn under the stars—is what it's all about.
Details: 
Movies will start at dusk and will feature first-run, repertoire films, and features appropriate for children and adults. We will also feature a regional short film before each feature film. Projection mapping provided by the Mobile Projection Unit and music will be provided by X-Ray FM prior to each screening. Sound will be an in-car experience, over a limited FM transmission.
All tickets and concessions will be sold online, in advance ONLY, through Northwest Film Center and Portland Art Museum's websites. Tickets are $35 per car, $45 for Trucks, Vans and SUVs, and $55 for Premium Seating.
The Zidell Yards is located at 3030 S. Moody Ave, Portland, OR 97201
All films are subject to change without notice.
For up-to-date event information regarding weather and the Drive-In at Zidell Yards, please visit the event's website. Please assume the show is on unless otherwise noted. Please read our Cinema Unbound Drive-In Theater Guidelines.