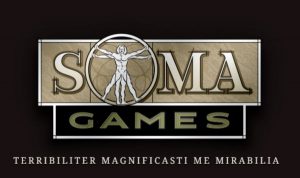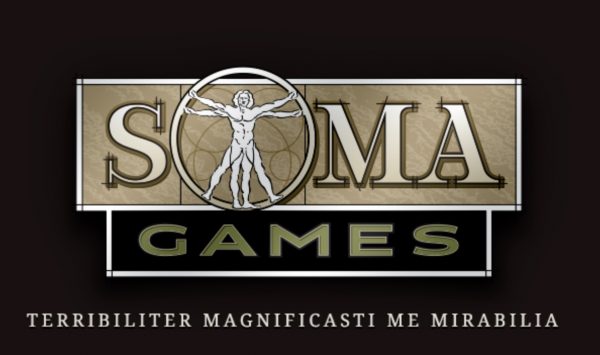 Soma Games LLC is an indie video game developer located in Newberg, Oregon. We believe video games can be far more than time-wasters. Video games hold the potential to showcase beauty, reward adventure and excellence, and challenge thinking. Our goal is to passionately and dutifully craft the games that elevate humanity rather than waste it.
Amy Rose Lowery is one of two full-time writers who works for Soma Games. While many ask people who work at Soma Games how they got their job, Amy's story is one of my favorites. She was a senior at Asuza Pacific University, and two of our company leaders, Chris Skaggs and John Bergquist, gave a presentation in one of her classes. Naturally, when the night was over, they left. But Amy dashed outside calling after them. She wanted to work for Soma. And now, she does. (Editor's note: This approach does not work for everyone.) Once Amy graduated, she moved to Oregon to join our narrative team. We're grateful to have her.
AMY ROSE LOWERY (& her dog Luke)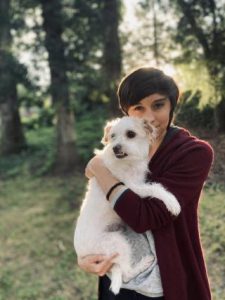 What do you like to do in your free time?
When I'm not making video games, I'm spending my time playing them, diving into literature and cinema, or writing other projects, such as my own little indie games or my upcoming novel! Yes — you're right — my life is entirely consumed by worlds of fiction, but I wouldn't have it any other way.
What's been one of your biggest accomplishments?
I feel like landing my job as a writer at Soma directly out of undergraduate film school is a huge accomplishment, honestly. Other than that, I'm proud of my senior year film (I served as the video editor), which ended up winning a bunch of awards at LA film festivals, and when my first short story was published.
What's your favorite part of your job?
I love to see the stories we write come to life in a 3D world. It's one thing to write a character on a page, but another entirely to watch as an actor embodies them, an artist gives them a face, and a whole set sprouts around them. It's amazing how so many people come together, each with their own visions and skills, and we manage to collaborate to create one piece of art.
What causes do you care about?
One cause I care about is animal welfare. I volunteer at my local animal shelter and have rescued many pets who have come from an abusive past. I hope I can someday do more to help, like by working for a sanctuary.
What's a goal you have for this year?
This year, I hope to complete and release a little indie game that I develop on my own. I want to improve my skills in game design and learn to code in Unity!
If you could create a custom ice cream flavor, what would it be?
Not a new ice cream flavor, but a rare one — GRAPE. It needs to become a staple.
How do you want people to remember you?
There are so many stories — games, books, movies — that have played a significant role in shaping who I am, both as a writer and as a person. I hold them so dearly in my heart and am so thankful to their creators for bringing them to life. I hope someday someone is touched by the stories and characters I create.
Amy Rose invites you to learn more about her on LinkedIn or find her on Twitter: @archosaur_