Gov. Brown has laid out a Three Phase Reopening plan for Oregon. As of June 19, all of the state's 36 counties are open under either Phase 1 (4 counties) or Phase 2 (32 counties).
Production is welcomed here in the state but all productions will need to adhere to the applicable elements of those general guidelines including social distancing.
Permits are, in general, being issued but most agencies have had a staff reduction during the last few months and therefore permitting may take longer to obtain.
In addition, we are requesting that all productions here in Oregon have a written Health & Safety Plan that lays out specific procedures and protocols that will not only allow the production to adhere to Gov. Brown's guidelines, but also help the production keep their cast and crew safe from the COVID-19 virus. This will be a requirement for productions participating in any of our incentive programs. Micro-budgeted projects should contact our office if you don't feel like you afford required PPE.
The OMPA has published a set of Production Protocols that has been developed in conjunction with the local production community that can be used by each project for guidance on developing a written H&S policy that all project specific cast, crew and production companies should agree to prior to commencement of production.
In addition, the AMPTP, alongside unions/guilds, has published "The Safe Way Forward" for on-set safety.
Please ensure you use all of these resources to develop your own set of measures to keep your cast and crew safe.
Thank you.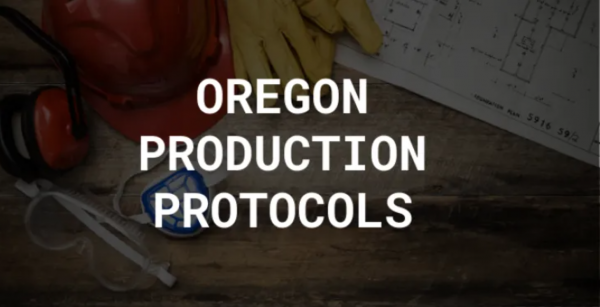 Getting back to work. 
It goes unsaid that these are trying times for everyone, including all of us in the Oregon media production industry. Yet, we are a strong and vibrant community of professionals, skilled at solving problems and highly capable of meeting the challenges presented by COVID-19. We are also a community of caring individuals known to support each other and work together with respect and grace. These guidelines will help us protect each other while also helping to reduce the spread of the virus as we get back to work.
See them here.