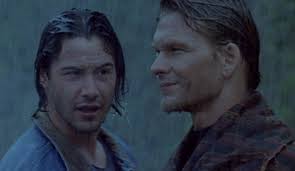 **THIS EVENT HAS BEEN CANCELLED. PLEASE CHECK IN AS WE HOPE TO RESCHEDULE**
Welcome in the sweet tubes of Spring and help the ex-presidents finance an Endless Summer by joining us to celebrate the rain of the Oregon Coast (specifically Indian Beach in Ecola State Park and downtown Wheeler) with a 35mm print of Katherine Bigelow's classic surf-thriller. Oregon is the home to a drenched Swayze/Reeves fight on the north coast sands while waiting for a closed out set that came in from Hawaii but plays in Australia (our locations are just that flexible). Bring your board and bring your best Bodhi and Johnny Utah and then "Vaya con Dios," Brah.
The screening of this film on 35mm print is at The Hollywood Theatre on April 6th at 730p.
Tickets and further information can be found here.
35mm print courtesy of the Phil Blankenship collection at the Academy Film Archive.