Next up in our #OregonMade Film Series at The Hollywood Theatre comes a post-apocalyptic film like no other (unless you count WATER WORLD, then, yes, it's kind of like that). Kevin Costner's Central Oregon shot THE POSTMAN, winner of both the prestigious Razzie and Yoga Awards, tells the story of an unnamed wanderer who retrieves a postman's uniform and a bag of mail, and embarks on a quest to deliver the letters within.
The rest, as they say, is (near future) history.
Please come enjoy some incredible Oregon vistas alongside some pure 90's cinematic extravagance. And, yes, we're showing it on 35mm print because that's the best way to experience it.
Book your tickets now and book them here. The screening is on Wednesday, September 4 at 7p.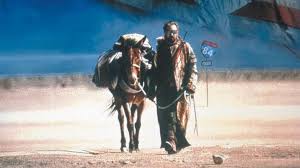 The #OregonMade Film Series has been running since late 2017 and, to date, has included screenings of iconic #OregonMade films like "Paint Your Wagon," "One Flew Over the Cuckoo's Nest," "Stand by Me" "The Goonies," "Kansas City Bomber" and "Drugstore Cowboy."