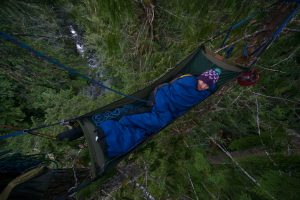 Congratulations to, John Waller's Uncage The Soul team with their winning pitch – "Teens In Trees"   – the Outdoors and Health Film Grant 2019-20 was awarded this week.  This new grant, provided by the #OregonMade Creative Foundation, and in conjunction with Travel Oregon,  offers $15,000 in funding to make a short film that explores the notion that spending time outdoors can improve health outcomes for us all.
Uncage The Soul's team, lead by John Waller, in partnership with Expedition Old Growth, and assisted by Friends of Outdoor School, will create a short film that will, "follow three urban adolescents from Portland as they ditch their devices and adventure offline into Cascade old growth forest to spend the night high in a tree canopy. They will explore how this disconnection from digital media and immersion in nature lends itself to an emotional charge that shifts their self-awareness, and intensifies their relationships with others and with the natural world. A certified forest bathing instructor will be working with the group of teens just prior to their canopy experience to prepare them to fully absorb and appreciate their overnight stay in the trees." (Grant proposal.)
John Waller stated, " We wanted to see first hand how a transformative and intense experience like spending the night in an old growth tree canopy could be a healthy mental and emotional antidote to the busy, digitally connected lives of high school teens.  We're very grateful that this #OregonMade grant gives attention to the relationship between spending time in nature and our mental health, and we're excited for the opportunity to bring a thoughtful and sincere short film to this urgent conversation. "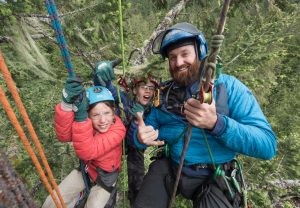 We know that Oregonians and visitors are inspired by nature – it has the power to feed our souls and enrich our well being. Applicants were asked to explore the statement, "the relationship we have with the outdoors has the power to improve the health of everyone," they were encouraged to use a shortlist of suggestions to find inspiration for their short film pitches, among them were the following:
*Outdoor experiences can reduce inflammation, can combat mental fatigue and reduce the symptoms of depression.
*Walking in the woods (or "forest bathing") can lower stress hormones and improve immunity.
*Hiking can help improve cognitive ability such as memory recall and can lower blood pressure.
*Exposure to green spaces can reduce the risk of type II diabetes, cardiovascular disease, stress and high blood pressure.
*Humans have an affinity for water – it can induce a meditative, calm mind that can result in better sleep.
*Pilot programs (such as Park Prescriptions programs) connecting time spent in the outdoors to positive health benefits are an increasing part of the portfolio of many healthcare providers. 
*Camping can improve academic performance in students. 
In addition to "documentary styled" content, applicants were encouraged to embrace different types of mediums and story structure and there were many interesting, well-researched and original pitches the Review Committee read and considered.  The winning pitch offered the promise of a short film that shows a unique story that correlates the effects of spending time outdoors with better health and well being.
This grant is part of series that are being offered in partnership with Travel Oregon.
Other grants in this series include:
Outdoor Adventure Film Grant – Oregon's Outdoors are for Everyone seasons 2018-19 and 2019-20
Oregon Outdoors & Health Grant