House Special founding partner Lourri Hammack and animator Chris Ohlgren presented a specially made puppet of Gov. Brown and a short, stop-motion video of the Governor taking a quick trip across Oregon to the Capitol in Salem to Gov. Brown herself as part of the Oregon Film, Television and Interactive Industry Day recognitions as arranged by the OMPA. Lisa Cicala, Executive Director of the OMPA and Rosemary Colliver from NW Portland-based animation studio ShadowMachine were also on-hand to discuss the growth of the industry.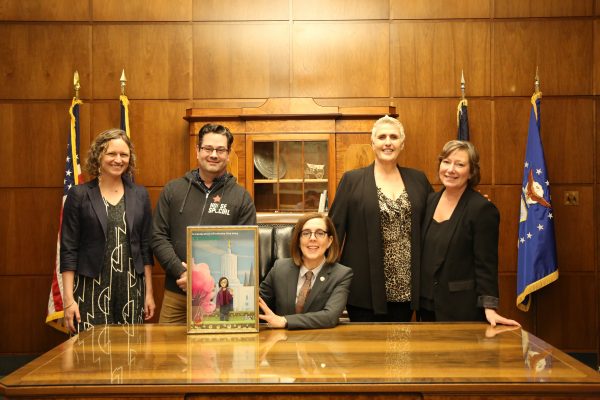 The stop-motion animation industry continues to grow here in Oregon. Historically started by the late Oscar winner, Will Vinton and Will Vinton Studios in the 1970's and then led by Laika Studios with award winning projects like "Coraline," "ParaNorman," "Kubo and the Two Strings" and the recently released "Missing Link," Oregon is now recognized internationally for its artistry, workforce and unique animation studios like House Special, ShadowMachine, Bent Image Lab and Hinge Digital – amongst many others. Production of a single stop-motion animation feature films can provide more than 300 jobs over a three year period. Currently there are three feature length stop motion projects happening here in Oregon, with a fourth and possibly a fifth, still on the way. ShowMachine recently announced production on a new feature adaptation of "Pinocchio" for Guillermo del Toro.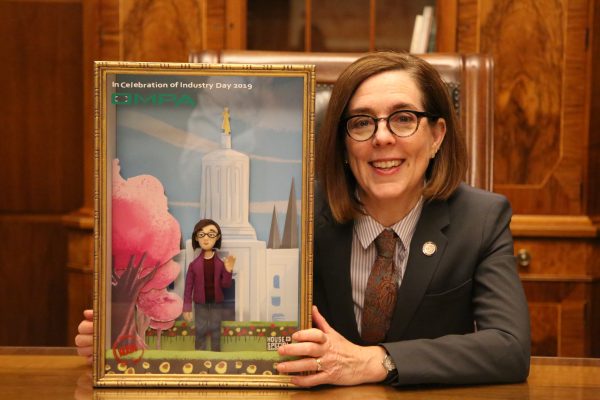 Lourri Hammack dubs Oregon's current position in the stop-motion animation production community as "animation domination" and hopes to see that trend continue not only with feature film production but also with network series production and international advertising campaigns (House Special has produced iconic campaigns for brands like M&Ms and Planters Peanuts).
The short video created by the talented team at House Special depicts the Governor riding a bike and a horse and finally skiing through several uniquely Oregon landscapes – the Painted Hills, Mount Hood, Haystack Rock and Crater Lake – before walking in front of the Capitol building in Salem with a wave.
You can check out the video, which includes many behind-the-scenes sequences – here.
Special thanks to everyone who made Oregon's Media Industry Day at the Capitol possible: Mark Axton, Ken Potts, Koerner Camera, Pacific Grip & Lighting, IATSE Local 488, SAG-AFTRA and Hinge Digital, but especially to Bruce Campbell – and you can watch Bruce interview the state Senator (Jeff Golden) for his own district here.