2019 is a big year for Hinge, as it marks our 10 year anniversary of bringing high quality innovative content to the creative industry.
Hinge came to be in 2009 after the three founders, Alex Tysowsky, Michael Kuehn, and Roland Gauthier, aspired to combine their experience and expertise to start their own studio. Their impressive and diverse backgrounds lay the foundation for Hinge's success.
Alex Tysowsky, our Director of Animation, has worked in the film industry for nearly twenty years. He has worked on creating stunning animation for over a dozen features including Harry Potter, Stuart Little, and Academy Award-winning projects like Spider-Man 2 and The Matrix.
Alex's profound understanding of artistic decisions and technical considerations help him to oversee all aspects of our studio's animation production in an efficient and unique way.
Michael Kuehn is a Creative Director, Art Director, and VFX Supervisor. With over twenty years of experience in content creation for feature films, commercials, and video game industries, his expertise is priceless.
His background includes work on several live-action blockbusters such as Armageddon and Reign of Fire, as well as beloved animated favorites Chicken Little and Surf's Up. Michael's passion for creating compelling animation and visual effects is invaluable.
Roland Gauthier is our Executive Producer, focusing on strategy, creative direction, project management, budgeting, problem solving, and hands-on production. He has over a dozen years of VFX experience, and has worked with countless global brands and agencies.
His work includes big brands like M&Ms, Honda, and Target, as well as the award-winning animated short film, Moongirl.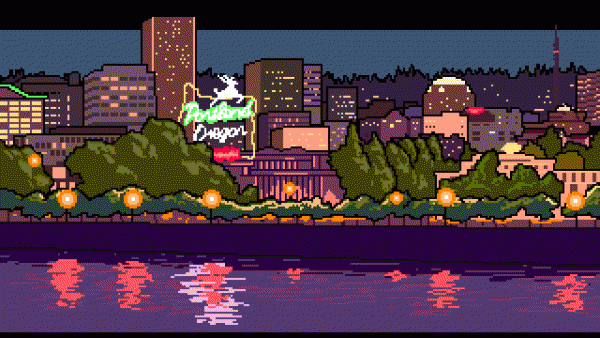 Under the direction of our founders, Hinge has gone on to accomplish many things, including earning a Cannes Lion award for our work on the Travel Oregon Game as well as animating Toonami, a show on Cartoon Network's Adult Swim.
I had the opportunity to sit down with the three heads of our studio to talk about the past decade and the direction they see Hinge going in the future.
Roland told me about the very beginning of their shared venture. "We started out with the three of us using hand built computers and month to month rent. Hinge meant an opportunity to create our own future.
"We weren't sure what that future was going to look like, if we were going to make it, who we were going to work with, and really how to do this whole thing by ourselves, but here we are. It has meant freedom and opportunity."
Alex painted a similar picture to that of Roland's as he was looking back at the beginning of Hinge. "We first started on milk crates, thinking about how we would be looking back on this. It's pretty cool to think back to that moment and see how far we've come.
"Since then we have worked with big brands like Nike, Adidas, and Microsoft, to  create stunning campaigns. Hinge represents the opportunity to help bring someone's vision to life in a compelling way."
Michael spoke to me about how after working at large studios for most of his career, he was ready to take the next step. He went on to discuss how Hinge represents more than just a job.
"Hinge is an opportunity for us to develop artists and watch them grow and bloom, and it's a mechanism for us to put good work out into the world."
As I listened to them speak two words stuck out to me; freedom and opportunity. Hinge represented the freedom to run things how they saw fit, and the freedom to approach projects in the same manner. Having accomplished so much since Hinge's inception, I was curious about some of their favorite memories from the last ten years.
"I think the moments where we got to create characters and a story from scratch were the most impactful for me. Where we got the chance to really building something from nothing," Roland said.
One of these projects was the Carrington College brand mascots, where Hinge teamed up with the college and agency BVK to create a broadcast, digital and print campaign featuring two birds, Blue and Goldie, and their forest friends.
This campaign stood out to him because it gave Hinge the opportunity to create the beloved characters from scratch, and to bring them to life over multiple spots, brand imagery, plushies, t-shirts and even a kids coloring book!
Creating these characters from scratch is a huge passion for the Hinge team, which shows in our other similar projects such as the CARFAX Car Fox, and the AdoptUSKids campaigns.
Michael's favorite memory was landing the Toonami TV series with Cartoon Network's Adult Swim. "It was an important moment for us, especially now that we are on our fourth season of the show. It's one of the things that has helped to make Hinge so successful and usher in long-form content work at the studio."
Looking ahead, I wanted to know their goals for Hinge over the next decade, all the way to Hinge's 20th birthday in 2029.
Alex discussed his hopes for the future, "I see us taking advantage of the latest technologies to help streamline our creative output and be ahead of the curve. I want us to be known for using cutting edge technology to tell really wonderful stories."
Roland told me his vision for Hinge, and how he hopes to begin this new chapter. "I envision us gradually transitioning away from purely service work, towards telling our own unique and memorable stories and content.
"We love partnering with brands, agencies, and production company partners to realize their creative vision, but we'll focus our energy on projects that are more meaningful and lasting, and align with our long term vision for Hinge."
Michael has a similar vision for the studio, and how he hopes to begin moving away from doing strictly commercial work.
"I want to see us grow in capabilities as well as in size, but my real desire is to do some of our own content. I'm looking to do more longform work, not necessarily filmwork but streaming episodes or the like.
Not to say that we would totally divorce ourselves from commercial work, but my passion in life is storytelling, and longform provides us with a richer platform for telling impactful stories."
It was inspiring to listen to how three creatives with different specialties have similar goals for the studio they started. They are their own selves, with their own unique mindsets, but share a common goal.
The body of work Hinge has developed and the talented creative team they've built over 10 years is a testament to its success, and will set the course for the next decade.