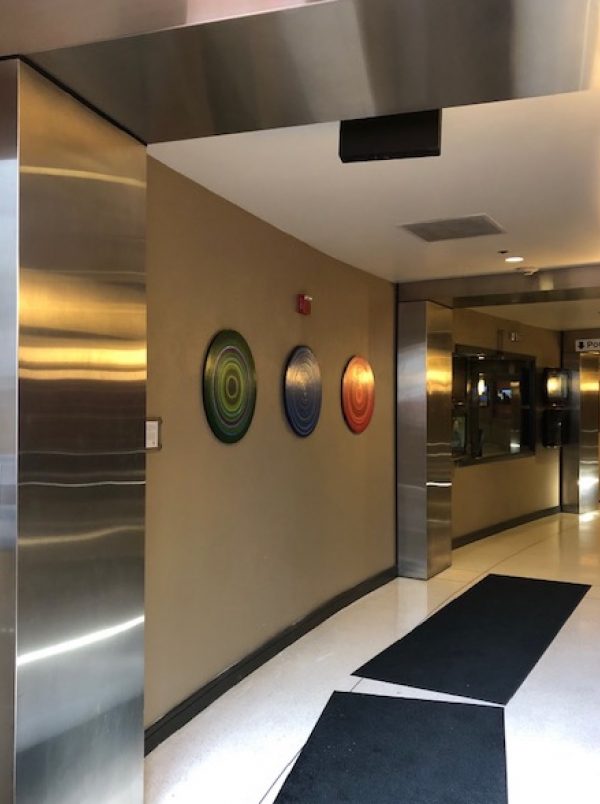 Since its first filmed project ("The Fisherman's Bride" released in 1909) Oregon media production has expanded to thousands of movies, television shows, documentaries, animation projects, commercials, music videos, and video games. The industry has kept production crew, talent, and services thriving in Oregon.  Coming off Oregon Film office's 50th-anniversary celebration last year, we wanted to create a lasting acknowledgment of our hard-working production professionals so we teamed up with Open Eye Art to create this community art project.  Each individual circle of color you see on the plaques to the left was made by hundreds of Oregonian production professionals that gathered at the OMPA Source Book release party last month and tried their hands at spin art.  As Open Eye says, "Art for the people made by the people" and truly #OregonMade!
These discs represent the many mountain, coastal and high desert locations that Oregon offers:
Green – represents the mountains and green verdant valleys of Oregon and the professionals who work "in front of" the camera.

Blue  – represents our amazing coastline and was created by those both "in front of and behind" the camera.

Orange –  reflects the high desert locations and was created by those who work "behind" the camera.
Pioneer Courthouse Square – Portland's Living Room, is home to Oregon's flagship Starbucks store, Carts on the Square, TriMet Ticket Offices, Travel Portland, Portland Walking Tours, Spellbound Flowers and the and KGW Studio on the Square. Nearly 9,000 visitors walk through the hallway, past the art piece every month, ensuring lots of eyes will see it which only seems fitting as this was a piece created by and for our Oregon production professionals and part of the bigger Portland community itself. Special thanks to Pioneer Courthouse Square for providing us space to hang the art.
Open Eye Art, OMPA members, Oregon Film all came together to create the fantastic community art project.  Thank you to Koerner Camera Systems who kindly allowed paint to be spun around their facility during the creation, and of course thank you to our community who each added their own color to the art pieces!
More about Open Eye Art, OMPA member…
Need an 8' Rothko or a unique painting that fits your storyline?  We can custom create contemporary genre art in the style of any particular artist you choose and even reproduce it in any size to fit your production needs. We have a diverse arsenal of art experience and technical knowledge and best of all, we are fast. We currently have a series of cleared art readily available in a variety of mediums and sizes, perfect for projects ranging from film, tv productions, advertising, to editorial . We also know how to create fun, interactive team building encounters as well as activity stations for your next event.
In the last 10 years we have worked with over 6800 individuals, designed and created over 62 original art installations and paintings and worked with over 40 local businesses and non-profits. We now are excited to share our skills with the Oregon film and production industry.
Call us at 503-799-4701 .We would love to work with you on your next project.