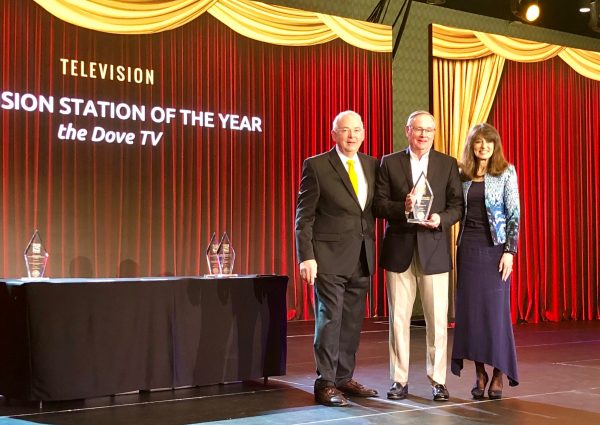 TheDove received the 2019 NRB Television Station of the Year Award on Friday, March 29, at Proclaim 19, the NRB International Christian Media Convention in Anaheim, CA.
The NRB Television Station of the Year Award recognizes a television station that displays innovative and creative programming through its daily schedule; is a force for the Gospel in its coverage of Christian events, issues, and stories; demonstrates a commitment to produce original programming to meet the spiritual needs of its viewing audience; and works in partnership with churches and ministries to provide a media platform for voices unable to be heard elsewhere.
theDove Media, Inc. is an Oregon Non-Profit Organization. Their Vision is large; to be a media industry leader in producing compelling faith-based content with excellence and trustworthiness.
The NRB Media Awards program is designed to encourage excellence in production service to the community, faithfulness to the mission, commitment to the Gospel and personal integrity. NRB recognizes that material awards and public recognition are not an ultimate priority in relation to our spiritual calling to take the message of hope to the world through media. However, by honoring and celebrating outstanding facilities, ministries, programs and producers, the Association hopes to inspire others to raise their standards and create more compelling, relevant, and challenging Christian programming.