On September 18, 2018, the Academy of Motion Picture Arts and Sciences announced Allison (Solberg) Buckmelter, a Portland native, and her husband Nicolas Buckmelter, won the prestigious 2018 Nicholl Screenwriting Fellowship award.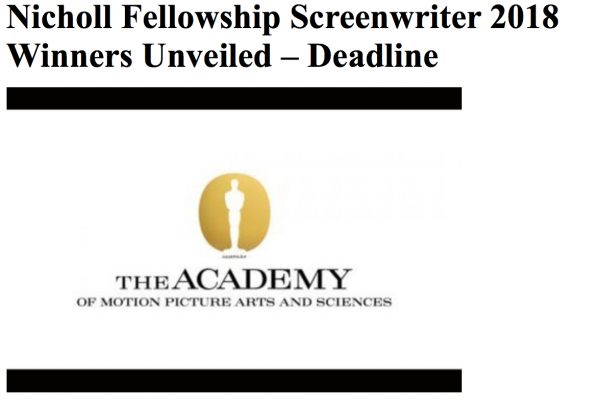 Three individuals and one writing team have been named winners of the 2018 Academy Nicholl Fellowships in Screenwriting competition. The fellows will each receive a $35,000 prize, the first installment of which will be distributed at the Academy Nicholl Fellowships in Screenwriting Awards Presentation & Live Read at Beverly Hills' Samuel Goldwyn Theater on Thursday, November 8.
Allison and Nicholas' winning screenplay, "American Refugee," was 1 of only 4 selected out of 6,895 scripts submitted worldwide. Next to receiving an Oscar, winning the Nicholl Fellowship is the highest honor a screenwriter can receive from the Academy. Allison graduated from Jesuit H.S. in 2001 and the University of Oregon Clark Honors College in 2005, where she majored in English, and minored in film studies. She currently lives in Ventura CA with her husband and 2 children
The 2018 winners are (listed alphabetically by author):
Allison Buckmelter and Nicolas Buckmelter, American Refugee
Joey Clarke, Jr., Miles
Grace Sherman, Numbers and Words
Wenonah Wilms, Horsehead Girls
A total of 6,895 scripts were submitted for this year's competition. Nine individual screenwriters and one writing team were selected as finalists. Their scripts were then read and judged by the Academy Nicholl Fellowships Committee, who ultimately voted the winners.
For the sixth consecutive year, an ensemble of actors will read selected scenes from the winning scripts.
Read more at Hollywood Reporter here.