Please join us for the inaugural event of the Peace of the City Summer Film Series at The Armory on Thursday, June 21, 6-10 pm!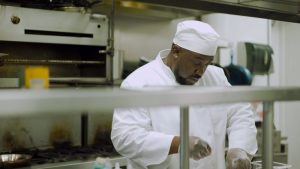 Knife Skills is a 2018 Oscar®-nominated documentary about reentry, second chances, and the healing power of good food. Following the hectic launch of Edwins restaurant in Cleveland, where all the staff are just out of prison, the film follows three trainees, tracing their struggle to launch new lives on the outside. (40 minutes)
James Beard: America's First Foodie is Portland director Elizabeth Federici's fascinating biography of James Beard, the Portland, Oregon, native who had the first cooking show on television; was the author of 22 cookbooks along with a syndicated newspaper column and countless magazine pieces; and ran an acclaimed cooking school out of his townhouse in New York City. James Beard: America's First Foodie relates the story of Beard's life while chronicling a century in the food movement. (55 minutes)
This double-header screening will be followed by a Q&A with director of James Beard: America's First Foodie, Elizabeth Federici, and other special guests TBD. 
The Armory is located at 128 NW 11th Ave. in downtown Portland, OR.
To attend this screening, please purchase an advance ticket to reserve your spot at https://www.peaceofthecity.com/tickets.  Tickets will also be available (cash only) on the night of the screening, subject to availability. All tickets guarantee entry to screenings between 6 pm, when venue doors open, and 7 pm, when screenings begin. Late entry will be at the discretion of the venue.
General admission is $10 and includes a pre-screening reception and general seating in our 150-seat cinema. We are also excited to offer a limited number of patron tickets, which include prime reserved seating and an invitation to meet filmmakers and special guests and enjoy a complimentary drink at the post-film reception. Patron tickets are $40.
Presented by Film Sprout and NW Documentary, the Peace of the City Film Series is a summer documentary film series hosted at The Armory in Portland, OR, co-directed by Film Sprout founder Caitlin Boyle and Jill Schnitzer Edelson. A forum for true stories that can entertain as they educate and inspire, the series showcases the best work of the social-issue documentary film community in the United States, which upholds a tradition of investigating, observing and translating the most pressing social issues of our time.